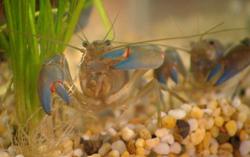 Test your kH level before it kills!
Sydney, Australia (PRWEB) April 19, 2013
Sydney tap water seems to have a reduced level of Carbonate Hardness (kH) compared with the last few years. Recent kH tests of Sydney tap water shows levels as low as 0-20 ppm. This is a concern for aquarium owners, as to keep a stable freshwater aquarium there is a minimum required kH level of 40-60ppm and 200ppm for marine aquariums. Visit http://www.majesticaquariums.com.au/Initiatives/killer-kh-warning-3 for more information.
kH is important to all biological processes and is also essential to the break-down of nitrogen by bacteria, which cannot occur without the presence of carbonate. It also serves to stabilise and buffer pH.
"It is often falsely thought that kH is only necessary to stabilise pH levels. The truth is that carbonte has many other important functions. It is involved in the metabolic and respiratory processes of both fish and plants and assists in osmo-regulation." Paul Talbot, owner of Majestic Aquariums in Sydney.
Paul Talbot describes how he has witnessed the low kH levels in Sydney tap water having particular effect on yabbies, turtles and aquatic plants; "Many people are finding that their yabbies which have lived happily for years are dying, generally after a water change or while they are trying to shed their exoskeleton. A higher than usual number of customers are reporting that their turtles are developing bacterial infections and shell abnormalities. These observations can be attributed to low kH levels in the aquarium. Aquatic plants should thrive in an aquarium providing that they have adequate light, fertilizer, carbon dioxide and a suitable level of kH. To keep healthy aquatic plants, aquarium owners must be aware of the kH level in the water and never let it drop below 20ppm."