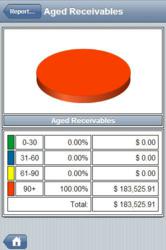 Reports are especially crucial during tax season and the end of the fiscal year.
Chantilly, VA (PRWEB) April 19, 2013
ConnectBooks for Sage 50, developed by IntelleApps, allows users at any level of the company to view accounting information, which now includes the ability to view reports and graphs, on the go. ConnectBooks has been developed for both Sage 50-US Edition (formerly Peachtree) and Sage 50-Canadian Edition (formerly Simply Accounting) products and works on most Android and iOS mobile devices.
Reports are an important part of any business process and are especially useful to small business owners and CFOs. They need them to see how well the company is doing overall, how the employees are performing, and sometimes to press slow-paying customers to make payments. These types of reports are especially crucial during tax season and the end of the fiscal year. ConnectBooks for Sage 50-US Edition allows users to view this information, and more, all from a mobile device.
ConnectBooks for Sage 50-US Edition offers:
Reports:
1. Balance Sheet Report
2. Cash Flow Report
3. Consolidated Income Report
4. Job Profitability Report
5. Custom Reports
Graphs:
1. Aged Receivables
2. Aged Payables
3. Revenue Year to Date
4. Custom Graphs
Cash flow is the most important part of a business. It is necessary to maintain a healthy cash flow in order for the business to thrive. This is why it is important for business owners to have access to receivable reports so that they can see which customers owe the company money and how much each one owes. In addition to customer information, users of the app can also view the profitability of the company by seeing the total costs for items paid out to vendors as well as the revenue generated after sales. By having this information available on a mobile device, they can easily access customer contact information in order to pay them a visit and ask them for a payment if necessary OR contact a vendor to order more inventory items as demand increases.
Sometimes, customers have trouble making payments on time. This could be due to any number of factors. With the Aged Overdue Receivables reports, business owners can see which customers owe the most money as well as the terms and conditions of their sales invoice. This allows for additional information about the sales invoice to be viewed, such as the interest rate of the sale and any custom information added for that customer (such as an alternate billing address or contact info).
ConnectBooks for Sage 50 provides users with access to vital information in addition to the reports mentioned above. It is available to download now on both the iTunes App Store and Google Play Store.
Click here to go to our website to subscribe or review the benefits and features of ConnectBooks.
About the Company:
ConnectBooks for Sage 50-Canadian Edition and Sage 50-US Edition are products of IntelleApps, LLC. IntelleApps is a fast growing company with an exclusive focus on developing state-of-art mobile apps for the Apple iOS and Google Android platforms.
IntelleApps is located in Chantilly, VA, USA and is a Sage Development Partner. Sage Corporation is the Creator and Owner of the Sage 50-Canadian Edition and Sage 50-US Edition accounting software products.