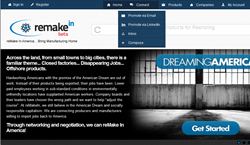 (PRWEB) April 23, 2013
While the media and much of America are talking about reshoring and how to grow and strengthen the economy, reMakeIn.com is taking the initiative a step further by providing networking tools that help U.S. producers match up and partner with U.S. manufacturers to produce products, bring jobs back to America and aid efforts to regrow the U.S. economy.
reMakeIn.com offers professional networking tools for manufacturers and producers to meet up and work together to produce goods "Made in America." By promoting and aiding the reshoring of jobs to America, reMakeIn's founders feel the site is helping to rebuild and strengthen the U.S. economy and they are looking for users to join the effort.
reMakeIn.com users can establish a free company profile, post a catalog of products they manufacture or are looking to produce, and connect with other users via the website. The site also offers users the ability to promote their company via email or LinkedIn.
The Economist hosted a recent debate titled "Offshoring & Outsourcing: Do multinational corporations have a duty to maintain a strong presence in their home countries?" The result, decided Feb. 1, 2013, showed a mixed audience with 54% in favor of reshoring and promoting a strong presence in the company's home country.
This debate is just one article shining light on reshoring, a practice that appears to be a growing trend in the United States. With the recent emphasis on jobs in President Obama's State of the Union address, the off and on threat of the Fiscal Cliff, an economy that shows a few glimpses of a brighter future and yet remains sluggish, and job claims bouncing up and down within the median but gaining no real ground in putting Americans to work, the topic of reshoring is gaining more attention and the practice a more favorable light.
Promoting the belief that "by establishing connections and negotiating terms, together we can reMake In America," reMakeIn.com builds upon the familiar LinkedIn professional networking platform and concept. The site encourages members to create a profile and list their products for reshoring, and then the site provides tools for those members to connect with each other in efforts to establish a partnership to create products made in America.
Instead of continuing to export products and the jobs associated with producing those products, manufacturers and producers (importers) can partner with like-minded companies to produce quality products in the United States, maintain profitability and contribute to more jobs and a stronger U.S. economy.
According to the Reshoring Initiative, an industry-led effort to bring manufacturing jobs back to the U.S. founded by Harry Moser in 2010, "American companies often don't consider all of the costs in sending manufacturing offshore." The Reshoring Initiative site goes on to state, "the massive U.S. trade deficit is a major cause of the decline of U.S. manufacturing over the past several decades, the high unemployment rate and debilitating budget deficit. Domestic suppliers have watched as large manufacturers have offshored work and well-paying jobs. Offshoring ultimately contributes to waste and instability."
"Reshoring is an efficient way to reduce imports, increase exports and regain manufacturing jobs in the United States. It's also the fastest and most efficient way to strengthen the U.S. economy," said Mr. Moser.
About reMakeIn.com:
reMakeIn.com was started in Boone, North Carolina by two guys just trying to strengthen our great Nation. We are currently seeking importers to list their products on the site and American manufacturers to connect with importers. Anyone can help the effort by donating to the not-for-profit Website and by buying American.