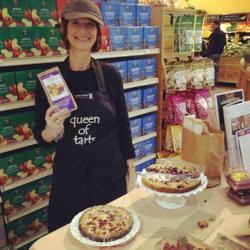 I tasted a sample of her baked good and loved it. Made a blueberry tart to my sister's home. It was a huge hit. So simple to do and makes for a great presentation
Boston, MA (PRWEB) April 24, 2013
With Spring and summer upon us, a new variety of fresh fruit is available to keep families happy and healthy, while tapping into their innate sweet tooth. There are several ways to incorporate nature's delicious treats into everyday baked goods. Below are the top 3 summer treat recipes with the ingredients needed to make your spring the sweetest ever.
Delicious recipe #1: Top the batter with a pint of luscious plump blueberries and bake
Delicious recipe #2: Coarsely chop 3 medium-sized ripe, unpeeled peaches and simply "throw" right on top
Delicious recipe #3: Red Berry blend – mix 3 ounces of each: whole raspberries, sliced strawberries and halved and pitted cherries to make tartlets
"T'art mix by Amour Creations is so so so so delish! I kept eating the mix even before I cooked it, and then kept eating the tartlets right from the pan. So yummy!! Would recommend this t'art mix to anyone from baking enthusiasts to non-bakers! Great product! says Jacqui, an avid baker and T'ART enthusiast. "I tasted a sample of her baked good and loved it. I decided to purchase her product and make a blueberry tart that evening to bring to my sister's home. It was a huge hit. So simple to do and makes for a great presentation!" says Lori.
To read more about Linda and the success behind T'ART, foodies can visit her website at http://www.amourcreations.net.