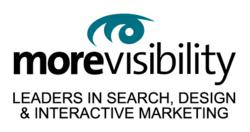 As executive vice president at MoreVisibility, a search, design and interactive marketing agency, I'm thrilled we have sponsored the competition once again.
Boca Raton, FL (PRWEB) April 23, 2013
MoreVisibility, a six-time Inc. 500/5000 nominee and one of the world's largest and most experienced search engine marketing and optimization (SEM/SEO) agencies, reaffirms its commitment to supporting and educating the local community about the benefits of Internet Marketing.
Team members from MoreVisibility are alumni of Florida Atlantic University, a local university in Boca Raton, FL and have been participating with FAU's Business Plan Competition (BPC). Entrants in the competition are given the opportunity to meet and network with experienced venture capital principals, early stage angel investors, successful entrepreneurs and senior business leaders who serve as judges for the competition. The teams compete for seed money and a variety of services available through sponsors.
This year, MoreVisibility supported the 2013 FAU BPC as a Gold Sponsor, their second year contributing. Gold Sponsors donate either cash prizes or services to the competition winners for a set value and advise in their field expertise. MoreVisibility provides their services in the areas of SEO, SEM, Website Design, Mobile, Social Media and Analytics.
The 2013 FAU Business Plan Competition winners were announced on Friday, April 12th after pitching their ideas to investors, judges and the local community. MoreVisibility will work with this year's winners including Stadson Technology and AspirEDU. Both teams won combined prizes of cash and services totaling a $55,216 value from various sponsors.
In the months leading up to the competition, teams are offered learning sessions including one led by MoreVisibility's EVP Danielle Leitch, FAU Alumna, who presented "How To Define and Reach Your Target Market Online". MoreVisibility has previously participated in educational lectures at FAU's Career Development day as well as partnered with their National Alumni Association (FAUNAA) to conduct an Interactive Marketing Boot Camp.
The MoreVisibility team is frequently sought after to speak at conferences, tradeshows, associations, and universities around the world and welcomes the opportunity to engage with those in their hometown of Boca Raton, FL. Danielle Leitch is proud to give back to her alma mater and local community. "As executive vice president at MoreVisibility, a search, design and interactive marketing agency, I'm thrilled we have sponsored the competition once again. Also as an FAU alumna, I feel it's incredibly important to give back to the university that provided me with such a great foundation for success. Our agency is happy to offer our support and services to the winners. Interactive marketing is a dynamic and evolving industry, so it's important to understand the landscape and opportunities available for emerging businesses."
About MoreVisibility
Founded in 1999, MoreVisibility is one of the nations leading Search Engine Marketing, Optimization and Design firms, having helped hundreds of Fortune 1000 companies and small businesses. From 2005 - 2010, MoreVisibility was named to the Inc 500/Inc 5000 list of the nation's fastest growing privately owned firms. MoreVisibility is a Google Analytics Certified Partner, Google AdWords Certified Partner and a Google Tag Manager Specialist.
MoreVisibility boasts high client retention through a team of 35 senior professionals who deliver superior performance and measurable results. Notable clients served include: Direct Marketing Association (DMA), Children's Hospital of Philadelphia, The Metropolitan Museum of Art, Dairy Council of California, McGladrey, The Mayo Clinic, Travel Nevada, Ritz Carlton Residential Suites and Clemson University. MoreVisibility is based in Boca Raton, Fla., and can be found on the web at http://www.MoreVisibility.com.