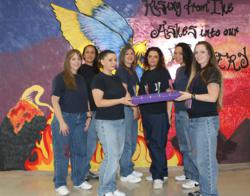 LIFT has given me so much. The things that really get to my heart are letting go of the past and moving forward. Attitude is what predicts who and what we are and what we do."
Portland, Oregon (PRWEB) April 22, 2013
The room was full of hope, pride and tears on Wednesday, April 10, 2013, as eight women graduated from the Living in Freedom Today (LIFT) program at Coffee Creek Correctional Facility (CCCF) in Wilsonville. Staff and volunteers gathered to help the women celebrate their achievement. The theme for the graduation, chosen by the women, was "Rising from the Ashes Into Our Recovery."
LIFT is a six-month-long, 14-hours-a-day program serving women in the Alternative Incarceration Program. LIFT is provided by Pathfinders of Oregon at CCCF. The program combines alcohol and drug rehabilitation with cognitive behavioral programming to give women the skills to make positive, healthy choices when they reenter the community. LIFT stresses personal responsibility and accountability. In addition to classes, the program includes transition planning to ensure that each woman is fully prepared to succeed at reentry. Since its inception in 2008, more than 450 women have participated in LIFT.
LIFT uses the metaphor of a caterpillar changing into a butterfly. When women enter the program they are still caterpillars, full of promise, but unsure they will become butterflies. Through the six months, they work individually and as a team to recognize the poor choices they have made, change their thinking and choose to make different, better choices going forward. In the words of graduate Regan Moustachetti, "Looking back to my challenging caterpillar days in LIFT, the most impacting factors were learning how to communicate respectfully and learning to change the way I thought, which rippled into a positive outlook. This transformed and changed my whole being. As I grew my wings by facing my fears and trauma, I learned how to fly. I had the confidence in myself to trust and reach out to others. I know I'll never be perfect or fixed, but here in LIFT I was stripped down to the basics and my foundation now is built on solid rock. I am a strong, confident woman smiling in my recovery."
The graduates presented Program Manager Vicky Spear and her staff with a life raft peopled with miniature representations of themselves. LIFT truly is a life raft for many women, helping them learn to live clean, sober lives when they return to the community. Pathfinders of Oregon staff, CCCF staff and volunteers who have worked with the women over the last six months paid tribute to each woman's hard work and success.
About Pathfinders of Oregon
Pathfinders of Oregon is a 501(c) 3 organization whose mission is to break the cycle of criminality. Pathfinders has taught programs within the Oregon Department of Corrections for 20 years. In the community it offers programs to families impacted by the criminal justice system through its Center for Family Success in Rockwood and operates an alternative education program for pregnant and parenting teens at its Pathfinder Academy.