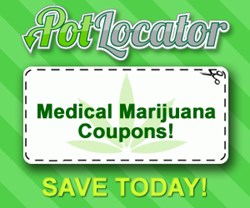 "With a severe influx of patients within the state of California, it was necessary to find another reputable canna-service on the West Coast to supply patients with medicine. We are honored to welcome this business to our family." -John Nicolazzo
(PRWEB) April 22, 2013
A company thoroughly recognized throughout the medical cannabis industry as a pioneer within their respective field, PotLocator.com, has today announced the addition of yet another reputable medical marijuana delivery service to their extensive roster of canna-businesses. Acknowledged nationwide as a top-tier medical marijuana dispensary, collective, compassion center, head shop, hydroponics and marijuana attorney locator, PotLocator has never strayed from their initial challenge of being able to provide medical marijuana patients everywhere with a safe-access point to medicine that is located nearest to their location. Through an unbeatable corporate pricing structure, a phenomenal staff support team and a remarkable and consistent marketing campaign, the company has managed to take their efforts a step further than their competitors such as WeedMaps, THC Finder and Leafly. One cannot even deem such competitors as "competition" as PotLocator continues to add new businesses to their roster every day.
Today's announcement of yet another reputable canna-business to the PotLocator roster is largely in part thanks to the compassionate individuals at Delivery M.M.J., a California-based medical marijuana delivery service. The mission set in place by this phenomenal service is to actively promote and support rational access for the safe, beneficial and effective use of medical marijuana products as a natural alternative treatment option. Delivery M.M.J. was designed to supply patients with healthy living and a bettered sense of overall wellness that they could not achieve before. This location is always within accordance and compliance with all California regulatory guidelines and state medical marijuana bylaws.
Delivery M.M.J. is a medical marijuana delivery service that not only provides California's cannabis community with top shelf medication, but also supplies them with donated food, overnight shelter locations, patient support and rides to their physician's appointments if in the event a patient is not able to make it there by themselves. Through a featured menu of some of the most high-quality medicine, edibles, concentrates and tinctures, Delivery M.M.J. can be considered a professional collective that focuses primarily on their relationship with patients and their journey to achieving a more desirable life. Please note that all medicine supplied through this collective has been screened and laboratory tested to ensure patients they are receiving completely organic and safe medicine. This delivery service provides the entire Northern Orange County region with their meticulous services, which includes the towns and cities of Fullerton, La Habra, Brea, Yorba Linda, Anaheim Hills, Anaheim, Walnut and Wittier.
With the recent addition of such a prominent and well-deserving medical marijuana business to the PotLocator family, patients in the California region will now be supplied with another option to obtain a safe-access point to their medicine. Proposition 215 patients will be glad to know that all businesses within the PotLocator and Medical Cannabis Network have been thoroughly screened through extensive background checks and are made up of only the highest standing. Be sure to be on the lookout for more PotLocator announcements about their ongoing efforts to form the most comprehensive cannabis-related family.