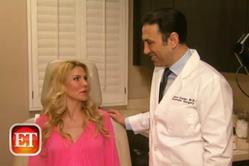 Los Angeles, CA (PRWEB) April 18, 2013
According to an article in the Spring 2013 issue of New You Magazine, the visual signs of aging are often unwelcome and many people seek out ways to fix or lessen the problem. Wrinkles, age spots, and sagging skin are often inevitable, but can be treated with a wide variety of products and treatments. (Go to goo.gl/fxybF)
Wrinkles appear as individuals age and certain repetitive facial expressions, such as smiling or brow raising, can make them more prominent. Retinoids are a prescription medication that has been shown to reduce wrinkles by producing collagen in the skin. According to Dr. Simon Ourian, Medical Director of Epione Beverly Hills there are two types of wrinkles, dynamic and static. Dynamic wrinkles such as frown lines are best treated with Botox or Xeomin that paralyze the muscle responsible for the wrinkle. Static wrinkles are the result of lost volume and are best treated with dermal fillers such as Juvéderm and Restylane.
Age spots occur when the skin is exposed to excessive high temperatures such as sunlight or other forms of heat. "I prefer to treat age spots with a fractionated laser," says Dr. Ourian. "To help avoid age spots, I tell all my patients to avoid the sun as much as possible and to put a sun block with a minimum SPF 30 every day."
"Sagging skin is another unavoidable fact of aging," says Dr. Ourian. "I can't say that I believe the at-home fixes recommended in the article will provide much benefit. At Epione we offer a radio frequency/ultrasound treatment that I find to be very effective. It works particularly well on the neck and jowls."
Dr. Ourian has been a pioneer in laser technology and non-invasive aesthetic procedures including Restylane, Juvéderm, Radiesse and Sculptra. These treatments are used for the correction or reversal of a variety of conditions such as acne, acne scars, skin discoloration, wrinkles, stretch marks, varicose veins, cellulite, and others. More information about remedying the visual signs of aging can be found on Epione's website.