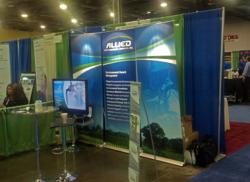 We are very excited to build on an already extensive list of industrial maintenance and environmental management services
Columbus, Ohio (PRWEB) April 22, 2013
Allied Environmental Services, Inc. (Allied), one of the Midwest's premier environmental consulting and contracting firms, presented an expanded list of services to attendees at the Ohio Safety Congress (OSC) Expo in Columbus, Ohio April 10-11, 2013.
Attendees of the OSC Expo, including facilities engineers, environmental directors, and safety managers, participated in discussion of Allied's expanded services during the two day event. Chad Reynolds, Allied Business Development Director, was on site to promote the firm's improved capabilities including: hazardous materials management services, mercury recycling program, and emergency spill response coverage area. Allied has also added to its staff of environmental professionals, and has continued to modernize and upgrade its fleet of equipment.
"We are very excited to build on an already extensive list of industrial maintenance and environmental management services", stated Mr. Reynolds. "The OSC Expo is a great place to inform our customers of new service offerings, and to introduce Allied to industry professionals that might not be familiar with our firm", he added.
Allied plans to promote its expanded emergency spill response services at the upcoming Ohio Emergency Management Association Vendor Show in Columbus on April 23-24, 2013.
About Allied Environmental Services, Inc.
Allied Environmental Services, Inc. (Allied) is an environmental consulting and contracting firm with offices in Lima, Ohio and Toledo, Ohio. For over 25 years, Allied has provided professional environmental management and industrial service solutions to private industry, property owners, lenders, municipalities, schools, and hospitals. Allied specializes in hazardous materials management, emergency spill response, industrial cleaning (vac-truck and hydroblasting services), asbestos abatement, underground storage tank closure, Phase I and II ESA, and air quality testing.
For more information please visit Allied's website at http://www.allied-environmental.com.