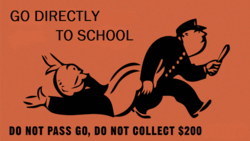 a conference [...] that seeks to question the wisdom of compulsory education and propose alternatives to compulsory institutionalized learning.
cambridge, MA (PRWEB) April 20, 2013
April 27th, 2013, at the Harvard Graduate School of Education's Gutman Conference Center (6 Appian Way, Cambridge, MA) a conference will be held that seeks to question the wisdom of compulsory education and propose alternatives to compulsory institutionalized learning.
According to the event's website, "The Alternatives to Compulsory Education Conference is set up as an opportunity to hear new ideas, share resources, but most of all to develop a community among those who are interested in ways to promote education to everyone interested in learning without the involvement of compulsory institutions. It is hoped that attendees will actively engage in supporting other individuals and organizations through a process of transparency whereby best practices can be shared and the viability of educating without compulsory schools will be firmly entrenched and legitimized. Organizations are encouraged to bring brochures as well as flyers about their upcoming events for distribution. Everyone is encouraged to network. The event is free and open to the public."
Speakers include:
Peter Gray, research professor of psychology at Boston College, has conducted and published research in neuroendocrinology, animal behavior, developmental psychology, anthropology, and education. He is author of a highly regarded college textbook, Psychology (Worth Publishers), now in its 6th edition. Most of his recent research and writing has to do with the value of free, unsupervised play for children's healthy social, emotional, and intellectual development. He has expanded on these ideas extensively in a blog that he write for Psychology Today magazine and in his recently-published book, Free to Learn: Why Unleashing the Instinct to Play Will Make Our Children Happier, More Self-Reliant, and Better Students for Life (Basic Books, 2013).
Cevin Soling: filmmaker (owner of Spectacle Films, Inc.), author, and musician. His work has appeared on HBO, PBS, The Discovery Channel, BBC, The Sundance Channel, Showtime, The Learning Channel, MTV, The Documentary Channel, as well as theatrically. He has been a featured guest on The Colbert Report, and on MSNBC. His documentary on education, The War on Kids, has been broadcast around the world and established the trend for making education a subject in film. He is currently a student at the Harvard Graduate School of Education and is working a book: Why Schools Cannot Be Reformed.
Patrick Farenga worked closely with the author and teacher John Holt until Holt's death in 1985. He is the President of HoltGWS and was the Publisher of Growing Without Schooling magazine (GWS) from 1985 until it stopped publishing in Nov. 2001. GWS was the nation's first periodical about homeschooling, or as Holt termed it, unschooling, started by Holt in 1977. Farenga co-authored Teach Your Own: The John Holt Book of Homeschooling (Perseus) and wrote The Beginner's Guide to Homeschooling (Holt Associates), as well as articles about homeschooling, education, and unschooling in a number of publications, including Un Mundo Por Aprender (University of Colombia, Bogota, 2011), and the entries about homeschooling for the International Encyclopedia of Education, 3rd Edition (Elsevier, 2010) and the online edition of Encyclopedia Britannica (2012). Farenga continues to publish and write at http://www.JohnHoltGWS.com.
Peter Bergson is co-founder of Open Connections, Inc., a center for self-directed learners located in the suburbs of Philadelphia, PA, that started as a progressive nursery/kindergarten in 1978 and began its transformation once Bergson's first-born turned five. At the core of the Open Connections approach are the creative problem-solving tools Bergson learned as Director of Training for Synectics, Inc., a consulting firm originally located on Church St. in Harvard Square. "OC" is located on a 28-acre campus and serves approximately 80 families with youths ranging from 2 through 18 years of age.
The Alternatives to Compulsory Education Conference
When: April 27, 2013, 9:30am -- 2:00pm
Where: Harvard Graduate School of Education Gutman Conference Center
6 Appian Way
Cambridge, MA 02138
Admission: Free and open to the public