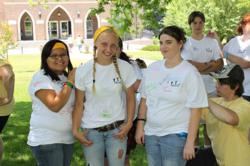 Seventy percent of youths in foster care want to attend college, but less than 10 percent achieve that goal. SAF is working to change that.
(PRWEB) April 19, 2013
The instructor looks over a sea of young, eager faces and asks, "How many of you have been in more than five foster care homes in your life?"
All of the youths' hands go up.
Then the instructor asks, "How many of you have been in more than 10 foster care homes in your life?"
The hands stay up.
Finally, the instructor asks, "How many of you were told that you wouldn't amount to anything?"
All of the hands remain in the air, but the gazes of many of the teenagers drop. They shift their focus to the floor, remembering the hurtful words they hoped wouldn't shape their future.
This was the scene at nonprofit Student Assistance Foundation's first "A Step Ahead" College Prep Camp for Montana youths in foster care.
Eight years, and more than 120 campers later, SAF is more committed than ever to the free, five-day camp, and to giving Montana foster youths the tools they need to make their dreams of higher education a reality.
Each year, campers gather at a college campus to experience college firsthand. While at the camp, youths stay in the dorms and receive classroom instruction in areas including money management, relationship-building, finding and maintaining housing, and scholarship searches and applications. Plus, camp participants learn the purpose of Education and Training Vouchers (ETV) for youth in foster care and how to properly complete the application forms.
Finally, campers leave "A Step Ahead" with a free laptop computer to use as they work toward their education goals — a tool that camp organizers view as being essential to success in postsecondary education.
SAF was notified recently that "A Step Ahead" has been selected as a finalist in the State Farm Neighborhood Assist grant program. We are one of 200 causes selected from 3,000 applicants from across the nation competing to receive a $25,000 grant. The 40 programs that receive the most votes will receive $25,000 each to support their cause.
Take a few moments each day — even on the weekend — until April 22 to vote for "A Step Ahead" at https://www.state-assist.com/cause/5109/a-step-ahead-camp. You can vote up to 10 times per day, and we would encourage you to do so. Invite your friends and family to support our cause as well. Every vote counts!
Student Assistance Foundation is a 501(c)(3) nonprofit Montana corporation that provides students with knowledge and tools to finance and pursue their postsecondary education. Funds generated by SAF are returned to Montanans in the form of education grants and public benefit programs - to date more than $27 million. For more information, visit http://www.safmt.org or http://www.SmartAboutCollege.org.
State Farm Neighborhood Assist is a crowd-sourced philanthropic initiative that lets communities determine where funding is awarded, exclusively through Facebook. The initiative utilizes the State Farm Youth Advisory Board to vet submissions for causes and allows Facebook users who download the free State Farm Neighborhood Assist application to vote for the final 40 grant winners. The program has been inspired by the incredible number of neighborhoods that are coming together to solve a problem or improve their community.