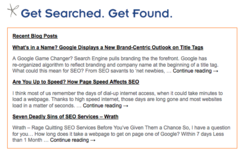 San Diego, CA (PRWEB) April 19, 2013
It would appear that new changes to Google's algorithm have resulted in differences in how a company's brand name is displayed in some results, which has prompted SEOhaus to push extra research and testing into what is so far, an unconfirmed change. This news comes hot on the heels of the latest Panda update that the search engine giant confirmed recently.
Brands that had their name displayed in the title tag often found the information moved to the front of the title tag when displayed in the search engine results page. This resulted in more brand recognition but pushed important keywords further out into the result.
This change was noted by SEOhaus, an SEO firm in California long on the forefront of spotting industry trends to assist with Internet marketing services.
Additionally, the inclusion of the brand name in the URL also appears to be a factor. Operations Manager for the SEO company Richie Lauridsen noted that it was too early to determine the exact impact this change will have. Lauridsen feels that the role of other factors such as PR score, user experience, content, trust and other items will contribute are still variables. In instances in which two particular conditions were present. Some punctuation marks such as the pipe (|), dash (-) or colon (:) appeared to play a role also.
Overall, this new change is expected to push branding into a more prominent place in search results. To read the blog in full and discuss click here
SEOhaus is an Internet marketing company in California. With over 600 clients in their roster, from the small to corporate business, the company provides services to businesses all over the world. SEOhaus has been leading the way in ethical, intelligent and strategic online marketing campaigns for over a decade.
Contact SEOhaus today at 800-605-8913 or 619-269-3500 or by using the contact form on the site to discuss your business marketing needs.