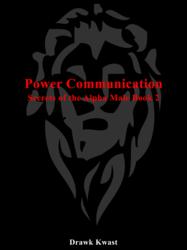 Las Vegas, Nevada (PRWEB) April 19, 2013
Internationally acclaimed author Drawk Kwast presents a combination of street smarts, neuro-linguistic programming and evolutionary psychology, with an overdose of testosterone, entitled, "Power Communication: Secrets of the Alpha Male Book 2. This book, the second in a series of nine, offers a systematic approach to gaining the communication skills of a true alpha male - the fearless masculine leader who consistently takes home the biggest paychecks and most desirable women.
This book is based on the belief that society is waging war against the modern man. This war has resulted in the very idea of a strong, masculine and sexually potent male being considered a dirty concept in modern feminized society. Kwast explores the effects of this on the psychology of 30-year-old males. The case is made that these men have become desperate, feminized boys who lack the knowledge, power and confidence needed to succeed. In an effort to provide solutions, Kwast offers psychological weapons for those wanting to reclaim their birthright of manhood. This book contains what some have referred to as the "age-old secrets" used by the world's most powerful men to communicate their ideas in such a powerful way that they change the very reality of how much money they earn, who they date and what they have influence over.
Initial feedback from critics has called Kwast egotistical, sexist and narcissistic, but few argue with the effectiveness of his methods.
More information is available at:
http://www.drawkkwast.com/power-communication-secrets-of-the-alpha-male-book-2/
About the Author:
Drawk Kwast is a living example of the modern-day alpha male. As an entrepreneur, martial artist and master of seduction, his methods have been called unconventional and even subversive. He makes no apologies as he teaches men how to dominate the competition at work, attract the most desirable women on the planet, and ultimately achieve a fulfilling life. Forbes, USA Today, Details, Worth, and Entrepreneur have all recognized his ability to transform clients' desires into reality. He offers a 60-day, Total Experience Immersion training program at a cost of $10,000.00 to those seeking the ultimate alpha male lifestyle.