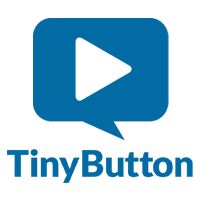 TinyButton is a user generated video app that collects and publishes visitor reviews, testimonials or comments in real-time with a touch of a button.
Sydney (PRWEB) April 20, 2013
Customers always love to hear from other customer's experiences and now TinyButton makes it simple to add this to any website.
Video content is the future of online customer sale conversion and retention. TinyButton understands this and makes it easy for companies to incorporate first-person video into their websites and landing pages. Check out the video preview option on TinyButton.com that allows companies to see what their webpages will look like with the TinyButton app installed.
Why video testimonials? As searching, browsing and buying moves primarily to handheld devices, visual and video content in particular becomes far more popular and useful for companies to reach potential customers than text. TinyButton users know that video content not only keeps potential customers on a website longer than text and also gives companies even more chance to engage those users and convert more casual visitors into committed customers. Visitors trust first person video testimonials far more than written recommendations, which can easily be massaged or in some examples, invented.
TinyButton's Plug and Play technology can be used beyond video testimonials too - personal reviews, comments, product and service demonstrations, even introduction videos can be recorded quickly and easily by an end user and uploaded with a simple click of a button.
TinyButton is a free service but also offers broader paid support and storage options depending on customer needs. Contact them to discuss your unique circumstances and find out what TinyButton can do for your website and your customer conversions and retentions!
Notes to Editors
TinyButton is the user generated video app that collects and publishes visitor reviews, testimonials or comments with a touch of a button. The easy-to-install app is available from the TinyButton Website - Tinybutton.com
For more information, visit TinyButton.com or email Brian at media(at)tinybutton(dot)com.