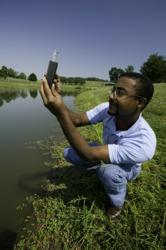 My organization knows, first hand, that River Network is a big reason why people protecting waterways is such a fast growing part of the environmental movement.
Portland, OR (PRWEB) April 22, 2013
As we celebrate Earth Day 2013, River Network, a national support center for grassroots river conservation, is celebrating its silver anniversary by highlighting twenty-five success stories and lessons learned from water advocates across the U.S.
"From the Atlantic to the Pacific and from the Great Lakes to the Gulf of Mexico, the groups we've featured in our 25th Anniversary River Voices have found success in many arenas – dam removal, river cleanups, habitat restoration, water quality monitoring and numerous strategies to reduce water pollution," said Todd Ambs, River Network President. "They provide a portrait in time of the diversity and richness of the watershed protection movement."
In North Carolina, Yadkin Riverkeeper tells of the 50-year fight for the Yadkin River, imparting that no matter how daunting, don't be afraid to stand up for clean water.
Charles River Watershed Association in Boston outlines their Blue CitiesTM green infrastructure efforts that they are now exporting to communities nationwide.
Groundwork Hudson has successfully taken a section of the Sawmill River in Yonkers that was placed underground in a pipe in the 1920s and "daylighted" it, creating a new waterway and park for city residents as well as enhancing wildlife and fish habitat.
More than 77,000 citizen volunteers have been trained and are actively monitoring 110,000 miles of streams throughout Missouri as part of the Missouri Stream Team Program.
Puget Soundkeeper in Washington worked for nearly two decades to reduce combined sewer overflows, resulting in the re-opening of shellfish beds closed since the 1960s.
The growth over the past quarter century of the watershed protection movement is one of the great under-reported success stories of conservation. In 1988 there were perhaps 200 state or local groups whose primary purpose was to protect freshwater resources. Today, there are more than 2,000.
Tens of thousands of passionate, dedicated grassroots leaders have all contributed in their own way – and together we have forged a thriving and dynamic movement.
"My organization knows, first hand, that River Network is a big reason why people protecting waterways is such a fast growing part of the environmental movement", said Beth Stewart, executive director of Cahaba River Society in Alabama.
River Network' s ability to connect us to others has allowed our organization to grow in ways we never thought possible", said Bart Mihailovich, executive director of Spokane Riverkeeper in Washington. "The Spokane River is cleaner now than it was 25 years ago, in part due to our partnership with River Network."
All twenty-five stories are available for download at http://www.rivernetwork.org/resource-library/25-lessons-25-years.
About River Network River Network is leading a national watershed protection movement that includes more than 2,000 local, state and regional and local grassroots organizations whose primary mission is to protect rivers and watersheds. For twenty-five years, River Network has worked closely with watershed protection groups from coast to coast – building the capacity of state and local organizations, assisting people grappling with water and environmental health problems, protecting habitat for fish and wildlife, developing blue cities, and reducing our country's use of water and energy. To learn more about River Network, visit http://www.rivernetwork.org or Facebook.