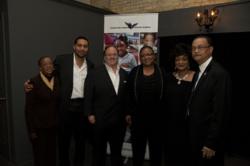 Education is the cornerstone of a strong community
(PRWEB) April 19, 2013
The back event space of The Hamilton in Milwaukee WI was packed last Friday, April 12th, with one goal in mind: raise money for a Summer Program for the students of Greater Holy Temple Christian Academy. "Diamonds in the Rough" was a collaborative event between the school and online retailer Diamond Nexus.
"Education is the cornerstone of a strong community," explains Gary LaCourt, CEO of Diamond Nexus, "and it's an issue that I feel very strongly about supporting."
"We have several upcoming events with other local schools in the Milwaukee community, and have plans to reach out within the surrounding Chicago communities as well," states LaCourt.
Greater Holy Temple Christian Academy, or GHTCA, opened its doors in September of 2003 with just 57 students. Today, there are 700 students and GHTCA is looking to expand in the future. The school educates Kindergarten through 8th grade and has been looking at doing a Summer Program to help keep their many students engaged year round.
"Greater Holy Temple Christian Academy is extremely grateful for Gary LaCourt and the dedicated partnership that Diamond Nexus has committed to our mission of serving and providing for the youth of Milwaukee," said Edward Deshazer, Special Projects Manager for the school. "With the help of Diamond Nexus, we raised over $3,500. This is a huge step towards developing the Summer School program our kids deserve," stated Deshazer.
Diamond Nexus was founded in 2004 with the purpose of brining to the public the powerful benefits of the lab-created diamond stimulant revolution. They have over 250,000 customers worldwide that have awarded them an "A+" rating with the BBB, and are the ninth largest online jewelry retailer in America according to the 2011 IR500 list. For three years in a row brides from The Knot have selected them as their Best of Jeweler. Diamond Nexus currently has two retail locations: their flagship store at Woodfield Mall in suburban Chicago, Illinois, and a second store at Mayfair Mall in Milwaukee, Wisconsin. In 2009 the company was named the official jeweler and crown maker of the Miss Universe Organization as part of NBC/Universal's "Green is Universal" environmental initiative.