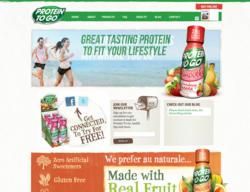 We are proud of this website and are anticipating a great increase in business.
(PRWEB) April 21, 2013
Protein To Go just launched their new website that was creatively built by Idea Marketing Group.
Protein To Go sells natural protein shakes and they were looking to increase business. After some critical analyzing they came to the conclusion that they needed a new website. When properly produced and managed, a website can provide an array of benefits to a company and their customers.
The new website is an ecommerce site that enables customers to purchase their natural and gluten free protein shakes directly from the website. An added bonus to being able to buy online, is customized landing page made exclusive for Living Social customers to instantly redeem discounts, setting Protein To Go apart from many other websites.
This website also contains a custom newsletter integration for mass marketing. On the homepage there is a direct signup for the Protein To Go Newsletter. All the information of anyone who signs up is stored into a database for future reference. Once a visitor has signed up for the newsletter they are able to provide additional information for a more thorough contact file in which can be used for future promotional materials.
Protein To Go also features an informative blog. With this, they are able to continually update or add information that would be of interest to visitors. In order to make it easy to manage a blog, Idea built the website on a Wordpress platform. This makes navigation of the website easy not only for frontend but also backend users. Even those who may not be tech savvy can easily work with a Wordpress website. The website is highly functional and serves as a great resource for visitors. Protein To Go's Chief Sales Officer, Robert Kral Jr. says "we are happy about our new website which only amplifies our mission and vision for the company. Idea did a great job at putting to life what we had envisioned."
To take a look at the new website and get more information on Protein To Go, please visit http://www.proteintogo.com.