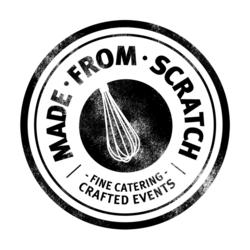 "My entire sales team understands how to throw a zero-waste event for our 'green'- loving clients', says Larry Clark, President of Made From Scratch. "It's always been a part of our culture".
Columbus, OH (PRWEB) April 22, 2013
The first Earth Day dates back to 1970 and today it is celebrated by more than a billion people every year in 192 countries. Earth Day has become the largest secular holiday in the world. For environmental groups, April 22 has come to symbolize a day of global awareness about our planet and the perils of environmental degradation. The goal is to make Earth Day a day of global action with the purpose of changing human attitude and behavior and to help bring about protective environmental policy changes.
While Earth Day has been gaining traction in more recent years, Made From Scratch, a Columbus, Ohio caterer and event planner, has been 'Going Green' for the past 30 years! More precisely, it's about keeping their focus on sustainability, sourcing locally, and maintaining a 'green' business mentality.
When it comes to sourcing product, Made From Scratch gets as local as having their own on-site garden, growing everything from Opal basil to Roma tomatoes to Lilacs. They even have 7 bee hives in their back yard where they harvest their own honey. Chef, Tom Nelson walks outside daily during the Spring & Summer months to gather garnishes and ingredients for their made-from-scratch dishes. In addition, they order product from local farms located in places like Canton, Ashtabula & Medina.
With more than 500 events annually, Made From Scratch produces more than 2,000 pounds of scrap food waste each year. But waste is not in this company's vocabulary. Made From Scratch was the first caterer to partner with Eartha Limited, a Columbus company that works with caterers, restaurants and food service operations on waste reduction and landfill diversion. Made From Scratch diverts all kitchen organics and food waste to be used in a rich compost soil they use in their kitchen gardens. "Diverting 100% of their food waste from the landfill is a remarkable achievement" said Lelia Cady of Eartha Limited. "Sustainability is part of the culture at Made From Scratch, advanced well beyond reduction, reuse and recycle. This is a one of a kind catering company--they raise their own bees! Seriously, who does that, bees!", exclaimed Ms. Cady.
With Earth Day upon us, it seems fitting that Made From Scratch is helping support The Harmony Project, where people from every corner of Columbus join hands to plant trees, landscape intersections, paint murals and build a playground. The Playground Build Day will take place on April 24th; the volunteers will clean, plant, paint and build a playground in the Streetcar District of Livingston Avenue.
Founded in 1974, Made From Scratch grew from a small retail restaurant in Central Ohio, into the premier fine catering and event design company it is today. Winner of the Consumers' Choice Award for 15 years running, Made From Scratch is committed to continually expanding and improving its sustainability, involvement with the community, local support, and event production services so that they may better serve their ever-valued clients.
For more information about this topic, or to schedule an interview with Larry Clark, President and C.E.O., please call Krysten Phillips at 614/873-3344 or e-mail Krysten at kphillips(at)made-from-scratch(dot)com
About The Consumers' Choice Award:
Established in 1987, the Consumers' Choice Award® identifies and promotes businesses that deliver customer service excellence. The Consumers' Choice Award® has retained a leading independent research firm to conduct surveys in U.S. cities; Columbus, Atlanta, Dallas, and Houston. The winners are determined by consumers and not by a panel of judges. The survey covers a broad range of categories of interest to both the public and business communities. Its purpose is to publicly identify those establishments that have been voted by consumers as being their choice for excellence. The Consumers' Choice Award® is a most prestigious tribute to local businesses that serve their communities well. The program is encouraged by all levels of government and by business leaders. Find out more about The Consumers' Choice Award by visiting http://www.consumerschoiceaward.com/