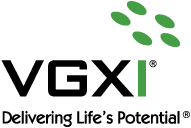 The Woodlands, TX (PRWEB) April 19, 2013
VGXI, Inc., a leading provider of DNA plasmid manufacturing and development services, is proud to announce that they were awarded the title of Best Contract Manufacturing Organization (CMO) on April 17, 2013 at the 6th Annual ViE Awards Ceremony held at the World Vaccine Congress in Washington, D.C., April 16-18, 2013. Dorothy Peterson, Vice President of Operations, and Lance Cizek, Technical Sales Manager, were in attendance to accept the award on VGXI's behalf.
Winners were selected by a panel of industry leaders who judged the nominees on the following five categories: range of services provided, methods of improvement and introduction of new services, attention to and quality of relationships with clients, reaching of milestones and final/ongoing outcomes, and building and maintaining existing and long term partnerships. The other nominees in the category for Best Contract Manufacturing Organization included Baxter's BioPharma Solutions (three-time category winner), Catalent, Lonza, and Pfizer Centersource.
VGXI would also like to congratulate Inovio Pharmaceuticals for winning the 2013 ViE Award in the category of Best Early-Stage Vaccine Biotech for their VGX-3100 DNA Vaccine, manufactured by VGXI.
Additionally, VGXI will be exhibiting at the 2013 BIO International Convention in Chicago, IL on April 22-25. They will be located at Booth 1873 in the Contract Services Zone, where the ViE Award will be prominently displayed.
About VGXI, Inc.
VGXI Inc. is a leading provider of DNA plasmid manufacturing and development services for DNA vaccine and gene therapy research. The Company has an outstanding track record of success in manufacturing plasmid products under GMP conditions for client clinical studies in the US and Europe, and its GMP and non-GMP products have passed rigorous reviews by several international regulatory agencies. VGXI's ability to work with unique requirements and create custom manufacturing solutions is based on its patented manufacturing process, flexible GMP production facility, and experienced development team. The recently announced research and pre-clinical production services extend the range of high-quality, research grade materials utilizing the same efficient service. This rapid turnaround program provides consistent materials to build a reliable pre-clinical dataset. For more information, please visit our website at http://vgxii.com.
About the ViE Awards
The only awards ceremony dedicated to this industry the ViE Awards honor individuals, organizations and initiatives which have made significant contributions over the past 12 months. The ViE Awards were created to honor and generate recognition of the efforts, accomplishments, and positive contributions of companies and individuals within the vaccine industry.
Cautionary Factors That May Affect Future Results - Materials in this Web site contain information that includes or is based upon forward-looking statements within the meaning of the Securities Litigation Reform Act of 1995. Forward-looking statements relate to expectations or forecasts of future events. These statements do not relate strictly to historical or current facts and can therefore be identified as such. They include words such as "anticipate," "estimate," "expect," "project," "intend," "plan," "believe," and other words and terms of similar meaning in connection with a discussion of potential future events, circumstances or future operating or financial performance. In particular, these include statements relating to future actions, prospective products or product approvals, future performance or results of current and anticipated products, sales efforts, expenses, the outcome of contingencies such as legal proceedings, and financial results. Any or all of our forward-looking statements here or in other publications may turn out to be incorrect. They can be affected by inaccurate assumptions or by known or unknown risks and uncertainties. Many such factors will be important in determining our actual future results. Consequently, no forward-looking statement can be guaranteed, and forward-looking statements may be adversely affected by factors, including general market conditions, competitive product development, product availability, current and future branded and generic competition, federal and state regulations and legislation, manufacturing issues, timing of the elimination of trade buying, patent positions, litigations and investigations. Our actual results may vary materially, and there are no guarantees about the performance or valuation of VGX stock. It is also important to read the disclosure notice contained in many of the individual VGX documents available on this Web site as many contain important information on such cautionary factors as of the date of the individual document. We undertake no obligation to correct or update any forward-looking statements, whether as a result of new information, future events or otherwise. You are advised, however, to consult any further disclosures we make on related subjects in our reports.