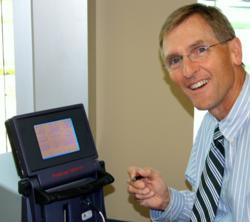 Richardson, TX (PRWEB) April 19, 2013
Kerry M. Goad, D.D.S., has joined the ranks of dentists who provide the new Laser Assisted New Attachment Procedure for periodontal disease treatment. LANAP uses the PerioLase MVP-7 laser, which is the only laser cleared by the FDA for this type of dental treatment. The laser is incredibly selective and is able to dissolve or remove gum tissue that is diseased while at the same time leaving the healthy tissue in the mouth.
The treatment begins with the dentist using a probe to test the depth of the gaps or pockets between the teeth and the gums. These pockets can hold bacteria that cause dental periodontal disease. Once the pocket depths have been determined, Dr. Goad uses the pulsing laser to effectively kill the bacteria and eliminate the diseased tissue. The laser also assists in denaturing the calculus that has attached to the teeth beneath the gum line so that ultrasonic scalers can be used to remove it. A clot is formed using the laser on the soft tissue, which forms a seal around the teeth so that the gum area can begin the healing process. At the same time, the laser stimulates the bone to begin the regeneration process. The tissue is then compressed against the roots of the teeth without the need for sutures to hold it in place.
Because the LANAP procedure is minimally invasive, the body begins to heal quickly and there is minimal recovery time needed. In addition, it is rare that patients feel much discomfort or pain. The gum line is reduced only by the amount of diseased tissue that was removed, which reduces gum recession. Up to 90 percent of the inflammation in the mouth is removed during the procedure.
While millions of adults across the country suffer from dental periodontal disease, only a small percentage of them actually seek treatment. When there is no treatment, the problem worsens and additional health problems may result. With the LANAP periodontal disease treatment available, Dr. Goad is hoping more people will seek the treatment they need to save their teeth.
For more information about Dr. Goad and his LANAP services, visit http://www.dallasgumsurgery.com.
Goad Dental is a general practice offering patients personalized dental care for Richardson, TX. Dr. Kerry M. Goad received his Doctor of Dental Surgery (DDS) from Baylor College of Dentistry in Dallas, Texas. He completed advanced training in restorative dentistry at the L. D. Pankey Institute in Key Biscayne, Florida, and is part of one percent of dental professionals providing the most recent FDA cleared laser procedure for gum disease and periodontal treatment. To learn more about Goad Dental and their dental services visit their website at http://www.dallasgumsurgery.com and call (972) 690-6653.