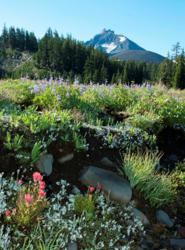 "Once you've engaged children in outdoor activities on a small scale, consider longer outings," says a Linfield College professor who takes her students on backpack trips in the Oregon wilderness.
McMINNVILLE, Ore. (PRWEB) April 22, 2013
Earth Day celebrations are great, but what our kids really need is exposure to the Earth all year long, says Janet Peterson, a health and human performance professor at Linfield College. Getting kids out into nature provides therapy, exercise and spiritual centering. But sometimes parents don't know where to start.
"Introducing your children to the outdoors is really as simple as exploring your own backyard or taking them to the local park," said the child fitness expert. "Playing is a big part of how kids learn. You don't need a plan. Just go to the park, follow trails, and explore.
"Once you've engaged children in outdoor activities on a small scale, consider longer outings," said Peterson, who leads her Linfield students on backpack trips in the Oregon wilderness. "If you are close to hills, mountains or the coast, you can organize hikes.
"Start by walking a short distance, and then work up to several miles," she said. "When your children get on a mountain bike or put on snowshoes for the first time, it's empowering. The smiles on their faces tell you they're in a place they haven't been before."
Peterson says a lot of children don't like competitive sports, and nature provides a place where they can be active without being competitive. Children can challenge themselves and get exercise by something as simple as walking across rocks in a stream.
"We have an innate need to be associated with nature," Peterson said, "but we often suppress that need. Many families have never even been outside their car in natural or wilderness areas."
A lot of outdoor activities don't cost money, Peterson says. Parents can take their kids to pick apples at farms or volunteer to help with trail maintenance in local parks, or simply create snow angels together. They can also scan the Internet for nearby hikes. "Many locations across the country offer places to explore and find ourselves," she said.
"Our kids have fallen under the spell of technology, which puts them into fast drive even as they slow down physically," said the Linfield College professor. "Millions of children spend most of their free time in front of screens, and that has contributed to an epidemic of obesity. Our children suffer from obesity-related diseases formerly reserved for old age.
"Technology provides a constant stream of stimulation, and when kids are involved in video games and clicking around the Internet, it takes them to another place, where they're not worried about homework or their social or home lives," Peterson said. "They often use technology to escape, but we can show children they can get that experience of escape through nature."
Peterson sometimes worries when she sees Google Earth letting kids place themselves anywhere in the world on a whim. Children need the actual stimulation of places, she says. "They need birdsong and autumn smells and the sound of snow crunching under their feet. They need the physical experience of clambering up rocks. A lot is lost when they engage in pretend activities rather than the real thing.
"Experiences in nature can help people explore their inner lives, and that's not only important for adults, but also for children," Peterson said. "Exposure to nature helps all of us become more centered."
Janet Peterson teaches at Linfield College in McMinnville, Oregon. The small college offers a rich curriculum of liberal arts and sciences, along with select professional programs, and has been nationally praised for combining affordability and excellence.
The school is located between the Cascade Mountain range and Pacific Ocean beaches, and students experience outdoor adventures all year long, including hiking, skiing, snowboarding, surfing and backpacking.