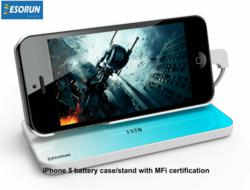 Patent MFi authorized iPhone 5 battery case with smooth sideslip and landscape mode stand from 0-90°
Shenzhen, Guangdong, China (PRWEB) April 25, 2013
For Smartphone users, battery life is always an issue and it has been declared that the hottest accessory for the iPhone 5 in 2013 will be the new battery case that Esorun is about to release. Shenzhen Esorun Technology Co. Ltd. announced that they will be releasing the Patent iPhone 5 Battery Case this year. This iPhone 5 battery case is the first free angle battery stand.
On the Internet, there are a large amount of battery cases for iPhone 5 that protect the gadget from getting scratched and helps the battery last longer, unfortunately, only a couple of those have the Apple Official Authorization. When this case is released, it will have MFi authorization.
As for the Esorun iPhone battery case, it is a multifunctional accessory. The iPhone case will allow the user to convert their iPhone 5 into a video playing device. It will also give the iPhone 5 the support it needs in order to take photos in landscape mode.
The cable is hidden under the shell part. Not only is it capable of charging while in standing position, but also while closed. The cable life is longer than other cases who have the cable on the outside.
It is available in seven different colors including: Black,White,Red,Blue,Orange,Green,Yellow.
For every color shell, the camera hole is black. This way, it does not affect the photo or video (even when it is closed) because it does not reflect the flashlight.
The smartphone user will be able to charge the accessory by using a Micro USB (with five pins). The free angle horizontal stand (landscape mode) can go from 0 to 90° easily. It can sideslip and stand as a landscape mode. It makes it easier to take video, take photos, watch movies, read email, surf the web, text and read eBooks.
Some of the other aspects include:

Input: 5V 1A ; output (to charge iPhone 5)is 5V 800mAh
Size: 126*61*17.9mm
Battery capacity:2150mAh
Material: PC (Brand: GE)
The built-in battery is responsible for double the battery life of the smartphone. The suggested retail price of this battery stand with 2150 mAh power bank is only $79.00, which is a good price for wireless chargers.
About Shenzhen Esorun:
As an elite manufacturer of mobile phone accessories, portable power chargers, wireless chargers and WiFi hard disk s, Shenzhen Esorun has built its reputation on delivering the best accessories and peripheral products for the mobile technology marketplace. The company specializes in creating cutting-edge products for Apple iPhones and iPads and provides innovative accessories for these modern cellular devices, allowing consumers to enjoy the most elegant solutions for all their communications needs.