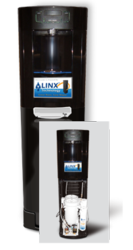 With LINX, we are able to provide systems that avoid the large carbon footprint left by bottled water delivery and the massive water waste of an RO Cooler.
San Carlos, CA (PRWEB) April 22, 2013
Pionetics, an innovative water technology company that develops drinking water systems using LINX® technology, named LaMar Hunt as Vice President of Water Coolers this week. Mr. Hunt will be based in Florida; however, he will serve clients around the globe and his primary role will be to advance Pionetics' business development efforts in the POU water cooler industry.
Mr. Hunt has 13 years' experience in the Point-Of-Use (POU) water cooler industry. Prior to joining Pionetics, Mr. Hunt was the Vice President of National Accounts for Waterlogic, an international water filtration company. Before his tenure at Waterlogic, Mr. Hunt was the National Accounts Manager for PHSI Pure Water Technology®, a bottleless water cooler supplier and manufacturer.
Mr. Hunt has a B.A. in Business Administration from Georgia State University and also studied Electrical Engineering at the Georgia Institute of Technology.
Mr. Hunt seized upon the opportunity to join Pionetics' environmentally conscious, technologically advanced organization. "I have been in the cooler business for a number of years and I was really attracted to the LINX cooler technology – providing RO quality water in POU applications without the water waste produced by RO," said Mr. Hunt. "I saw the tremendous opportunity here; being able to replace 5 gallon jugs with POU coolers that do not waste water is the future of our industry. With LINX, we are able to provide systems that avoid the large carbon footprint left by bottled water delivery and the massive water waste of an RO Cooler. The LINX Bottleless Water Cooler allows me to serve clients with the latest in technology, and I'm proud to be part of the team."
According to Pionetics' Vice President, H. Martin Jessen, Mr. Hunt's extensive POU Cooler experience and executive management skills will bring an additional dimension of service to Pionetics. "LaMar's proven track record of success makes him a perfect fit for Pionetics. With LaMar on our team, we will undoubtedly make great strides, educating businesses and potential dealers of the benefits of the LINX Bottleless Water Cooler. After all, most businesses tout the 5 gallon water cooler as the green alternative to plastic water bottles; without fully understanding the energy wasted and expended producing, storing and shipping 5 gallon water bottles. Even fewer businesses comprehend how much water an RO water cooler wastes. LaMar will be able to deliver this message and make a difference in our industry."
The LINX ion exchange process uses electricity rather than chemicals. LINX systems are controlled by programmable software that allows consumers to adjust the system to produce the water taste they prefer all while conserving water. To learn more about this technology, visit the company website at http://www.LINXWater.com.
Pionetics is currently signing new distributors. Anyone interested in becoming a distributor anywhere around the world - should contact H. Martin Jessen at 480-836-0887 or mjessen(at)pionetics(dot)com . LaMar Hunt can be reached at 863-873-6671 or email at lhunt(at)pionetics(dot)com.
About Pionetics Corporation:
Pionetics is an innovative water technology company that develops smart water treatment products that deliver great tasting, safe drinking water with less waste than traditional water treatment systems. Pionetics is privately owned and financially backed by Kline Hawkes & Co., NGEN Partners, and Unilever Technology Ventures Fund.
Pionetics is located in San Carlos, CA. To date, Pionetics has been issued over 50 patents worldwide to protect its proprietary know-how and innovative technology.