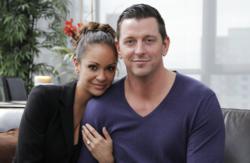 'What better community to help right now, than Boston?' says Berger.
Vancouver, Canada (PRWEB) April 22, 2013
Some people live for the thrill of the challenge, and Mitch Berger, the most decorated Canadian to ever play in the NFL, likes to pick his challenges big.
If you thought winning a Super Bowl was enough of an accomplishment for one life time, how about Mitch's next challenge – tackling world peace with crowdfunding.
'After retiring from the NFL, my career naturally shifted to sports radio and t.v. but my real passion came after my Dad was diagnosed with Parkinsons. I found charity was a way for me to support world issues. I found it very rewarding to give back and to inspire others to give back.' Berger said.
Earlier this year, Berger found his fiancé, international swimsuit model Bambi Lashell on Bravo's Millionaire Matchmaker. Since winning the Super Bowl, life has been a real life fairy tale for Mitch, but it's events like this that keep him grounded and wanting to pay it forward.
'I'm a Canadian citizen, but I spent 20 years of my life making a living in the U.S. so when they get hit, I feel it. As soon as I heard about the Boston Marathon bombing, I knew instantly I wanted to help, and I had the perfect platform to do just that.' Said Berger.
He was talking about Stunt Buxx, a crowdfunding platform that connects everyday people with brands and social causes to create viral media promotions, movements, and raises real time donations for communities around the world.
'What better community to help right now, than Boston?' says Berger.
The site is very unique in that it's not just about clicking on a donate now button, but about creating deep sustained involvement.
They do this by letting fundraisers set up their own channel which deploys creative challenges.
Site members can take these challenges, responding with photo and video submissions. One catch, their submissions only count if the member makes a donation to the fundraiser's charity of choice.
Stunt Buxx converges elements of gamification with viral media and crowdfunding to improve engagement, excitement, and loyalty.
It's certainly an interesting spin on the exploding crowdfunding market.
Mitch is calling on his fellow Canadians to get involved and donate to the Boston Marathon tragedy.
Moving forward, Mitch is teaching his celebrity and professional athlete friends in Canada and abroad who have charities they want to promote, that there is no better platform than Stunt Buxx.
Donating can be a rewarding experience but now with Stunt Buxx, it can also be fun.
The Challenge for Change begins Monday April 22nd @ 8am (PST) Mitch & Bambi are calling it: Give Peace A Chance. Site members can upload their videos and start donating to The One Fund Boston. All proceeds go to the victims and their families. The winning video receives a prize.
Details can be found here: http://www.stuntbuxx.com/channel/mitchberger