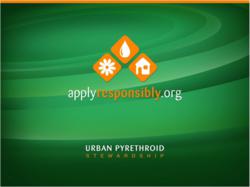 This Earth Day we are proud to again be doing our part to remind Californians about the need to protect the state's waterways.
SACRAMENTO, Calif. (PRWEB) April 22, 2013
Earth Day 2013 marks the fifth straight year for the Apply Responsibly program, an ongoing effort to educate homeowners about the link between protecting California waterways and the responsible use of pesticides in residential settings, according to officials for the stewardship program.
"Earth Day is a great opportunity to remind homeowners to stop and make certain they are handling home and garden pesticide products safely," Ann Orth, spokeswoman for Apply Responsibly and chair of the Urban Pyrethroid Stewardship, an industry alliance sponsoring the program. "Our goal is to continually raise awareness among California gardeners and homeowners about the need to responsibly use our products."
The stewardship group, comprised of leading pesticide industry companies, was established in 2008 as a way to inform California consumers about the important link between responsible pesticide use and safeguarding the state's water and the environment. It officially launched to the public in concert with Earth Day 2009.
In addition to raising awareness about pesticides in general, the program also seeks to educate homeowners and gardeners about "pyrethroids."
Insecticides with pyrethroids are used to control a wide range of insects that can infest gardens and enter the home. Chances are most consumers are probably using a pyrethroid if they have purchased consumer pesticide products intended to control mosquitoes, caterpillars, ants, spiders, garden worms, wasps, cockroaches, aphids and other insects that threaten plants, home or health.
Officials are reminding Californians to:

Always read and follow the instructions on the product label when it comes to the use, storage and disposal of pesticides;
Never pour any leftover pesticides down the sink, toilet, sewer or storm drain;
Don't stockpile pesticides - Buy only enough for one season;
Consider ready-to-use pesticides rather than products that need to be mixed if only a small area needs to be treated.
"During the past five years, Apply Responsibly's messages have reached millions of Californians through advertising, news and online sources," said Orth. "It's important to continue this effort and on this Earth Day we are proud to again be doing our part to remind Californians about the need to protect the state's waterways."
# # #
ABOUT
"Apply Responsibly" is a public awareness program funded by the Urban Pyrethroid Stewardship.
Through http://www.applyresponsibly.org and educational materials, the industry alliance promotes the responsible use, storage and disposal of insecticides commonly used in the garden and outside home as a way to help protect California's water and environment. The following companies are members of the Stewardship: AMVAC Chemical; Bayer CropScience; Cheminova, Inc.; DuPont Crop Protection; FMC Corporation; Syngenta Crop Protection; and Valent BioSciences Corporation.