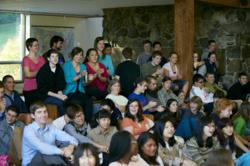 Everyone at The White Mountain School is impacted by this transformational gift.
Bethlehem, New Hampshire (PRWEB) April 22, 2013
The White Mountain School, a private boarding school located in the White Mountains of New Hampshire, announces the receipt of a $1.5 million donation from an anonymous alumna. This is the largest single donation in the School's history.
"This gift is inspiring. Everyone at The White Mountain School is impacted by this transformational gift," said Head of School Tim Breen. "In all my conversations with the donor, I have been touched by her connection with our School – by her appreciation for what our School meant to her and her determination to ensure that White Mountain continues to provide an exceptional experience for all our students."
Founded in 1886, The White Mountain School offers a challenging academic curriculum and a wide-range of co-curricular activities emphasizing community involvement and a connection to the natural environment. "We've always been a School committed to our students," said Breen. "Throughout our more than 125 year history we have offered an excellent education within a community that inspires engagement and service. With her gift, this generous donor honors that history and ensures it is here for generations of students to come."
A portion of the gift will support the construction of a new arts center, named in honor of beloved alumna and trustee Catherine "Kitty" Houghton '60. That facility will allow the School to enhance its growing arts program by providing two dance studios, a music studio and practice rooms, and a painting and drawing studio. The majority of the gift will go toward campus renovation projects, including a new kitchen serving area and dormitory renovations. Committed to sustainability in operations, all of the projects will also allow the School to improve energy efficiency across campus.
"This gift is especially helpful," said Breen, "because of both its size and its purpose. It will support the current priority of the School in the Catherine Houghton Arts Center, but also allow us to be sure to keep all our facilities up-to-date. This donor recognizes the importance of the little things and the large impact they have on our students and faculty."
While choosing to remain anonymous, the donor has a long history of supporting the School and has remained connected since her graduation. Along with the immediate impact of her gift on the School, the donor hopes her gift will inspire others to join her in investing in the School's continued success.
The White Mountain School is an intentionally small coeducational, college preparatory, boarding and day school founded in 1886. We believe that every student deserves to be fully engaged in their educational experience and, through a challenging curriculum and innovative instruction, encourage students to think creatively and critically. Our students are prepared for college studies and life beyond formal academics, including a commitment to service inspired through active involvement in a wide range of co-curricular activities.