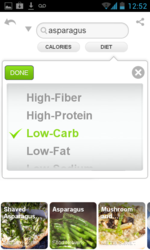 Our goal is to help consumers make smarter choices about food.
New York, NY (PRWEB) April 25, 2013
Edamam, a company committed to helping people eat better, unveiled today at NY Tech Day its Nutrition API. It is opening the API to developers in an effort to expand the availability and access to nutritional information for consumers everywhere. The company's intelligent proprietary technology produces a full nutritional profile for any recipe or ingredient list in real time. In addition to information for more than 100 nutrients, Edamam's API also provides calorie information, as well as health and diet labels, such as gluten-free, vegan, low-sodium and many more.
"Our goal is to help consumers make smarter choices about food, and we think the most effective way to achieve that goal is to provide them with as much data as possible. One company can do only so much, so we are opening our API in the hope that the developer community will find a number of meaningful ways to provide useful nutritional information to everyone who needs it," said Victor Penev, Edamam's CEO.
The API will prove useful to chefs, restaurants, catering companies, local food producers and home cooks, allowing them to get complete nutritional information for the food they are cooking, packaging, or delivering, quickly and easily. For consumers, this will significantly expand the visibility of nutritional data where they need it most – while shopping, at home cooking, eating out or ordering in.
"We are confident that developers will find many more ways to use our powerful API," added Ianko Ignatiev, Edamam's Partner Development Head and the API business manager.
Edamam has selected 3Scale, a recognized leader in the field, to deliver the API to the developer community.
About Edamam
Launched in 2012, Edamam is leading the way in applying semantic technology to food content and building applications to help consumers make smarter food choices. Edamam's best-in-class recipe finder is available both as a mobile app and a website. It is the top choice for finding what to cook for many consumers. In addition, Edamam powers nutrition for companies such as The Daily Meal and Whole Foods. The company's goal is to organize and democratize food knowledge to help people eat better.
For more information, visit http://www.edamam.com.