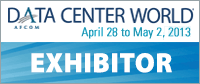 Las Vegas, NV (PRWEB) April 24, 2013
AFCO Systems, a leader in the manufacturing industry of datacenter products, will be exhibiting at AFCOM Data Center World Las Vegas from April 28th-May 2nd.
Data Center World is a premier educational expo and conference that provides real-world solutions for critical data infrastructure for datacenter management professionals. The event offers opportunities for vendors and attendees to network while providing unsurpassed access to technology service providers. This conference prides itself on offering unmatched opportunities for education, connection and guidance.
Being a prominent producer of datacenter server cabinets, AFCO Systems finds this conference the perfect place to showcase a variety of products they manufacture and an opportunity to connect with influential businesses and industry leaders.
AFCO Systems' exhibit will include S-Series Chimney Cabinet, T-Series Cabinet,Dual Sliding Aisle Containment Doors, Overhead Vertical Panels and Drop Away Roof Panels. Attendees are encouraged to stop by booth #211 at the event to meet team members from AFCO Systems' East and West coast offices.
"We are excited to be exhibiting at AFCOM Data Center world this year in Las Vegas. We really look forward to showcasing our outstanding products to the industry," said Mike Mallia, Chief Executive Officer of AFCO Systems.
About AFCO Systems:
AFCO Systems is a leading manufacturer of racks, cabinets, enclosures, and air containment systems for the data center and telecommunications industry. Since the company's founding in 1971, AFCO has been an industry pioneer with numerous patents and cutting edge designs that accommodate cabling, cooling, power, integration services, and on-site end-user usability challenges and requirements. The ability to deliver a wide range of standard products to address end-user specific requirements has led many companies in the Fortune 500 to choose AFCO as their strategic partner with their data center and telecom infrastructure needs. AFCO manufacturers its products in its lean manufacturing plant in Farmingdale, NY with additional manufacturing operations internationally to support its clients in EMEA and APAC markets.