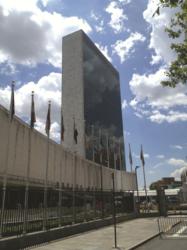 The UN project is an excellent example of the flexibility, scalability and power of Somfy's Digital Network of intelligent motors and controls.
Dayton, NJ (PRWEB) April 23, 2013
Somfy Systems, Inc., the world's largest manufacturer of motors and controls for interior and exterior window coverings, announces the completed installation of their motorized shading solution in the newly renovated United Nations Secretariat Building in New York City. The installation features 5,000 motorized blinds and shades across 35 floors controlled using Somfy Digital Network technology.
"The UN project is an excellent example of the flexibility, scalability and power of Somfy's Digital Network of intelligent motors and controls," said Tom Murphy, GM of Commercial Building Solutions for Somfy North America. "The United Nations needed to outfit an enormous office space with motorized blinds and shades for automated glare control while still allowing employees to make adjustments with localized controls. With the help of our partners Mariak and City View Blinds, we successfully met the challenge of managing natural light for this iconic building."
Fabricated by Mariak and installed by City View Blinds, the motorized blinds and shades are powered by Somfy's ultra –quiet Sonesse® 30 RS485 motors on Somfy Digital Network busline infrastructure. The near-silent operation of the Sonesse range maintains the acoustic comfort of the workspace and limits distractions. Each motorized blind and shade is on a schedule based on the path of the sun, which is determined by Somfy Sunis sun sensors. Somfy's 5-button digital keypads were also installed, enabling office personnel to choose from five different preset slat angles, or close the blinds completely. However, when the building is unoccupied, the motorized treatments revert to the automated mode that reacts to the time of day and sunlight levels, ensuring the most efficient system operation throughout the building.
Somfy Digital Network solutions provide the opportunity to obtain up to 19 LEED points. Somfy's dedicated Commercial Solutions Teams across 53 subsidiaries worldwide are available to support all aspects of system installation and operation.
About Somfy Systems, Inc.
Somfy Systems is the global leader in the manufacturing of strong, intelligent, quiet motors and control systems for both interior and exterior window coverings. Since 1969, Somfy engineers have designed products for both the commercial and residential markets and recently celebrated the production and sales, throughout the world, of 100 million motors.
Somfy's Commercial Building Solutions offer a wide range of intelligent motors and controls that optimize the utilization of natural light in your commercial workspace. Our systems are calibrated to maximize occupant comfort while enhancing the visual environment, minimizing solar glare and heat gain, and providing UV protection. Somfy's natural light control and automation systems are scalable in design, offered in low voltage, line voltage or wireless options, and are perfect for projects of any size or budget. Somfy's Commercial Specification team is LEED certified and will support all aspects of any project, from specification to installation to maintenance.
Please visit http://www.somfypro.com/commercial-building-solutions or call (800) 64 SOMFY for more information.