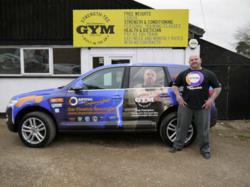 It's always a thrill to sponsor local athletes as a local business.
(PRWEB UK) 23 April 2013
What do you do when a competition winning strongman walks into your car showroom? Anything he wants.
When South Coast strongman Rob Frampton came into the showroom at Imperial Car Supermarkets looking for a new car, he ended up leaving with a new sponsor.
Staff at the Southampton Swanwick branch recognised Rob straightaway and knew they'd love to help him in his quest to become the world's strongest man.
Rob has been a competitor in Strongman competitions competing all over the world. In 2010 he was the first reserve for the World's Strongest Man in Sun City, South Africa, where he competed in heat five.
Business Development Manager Neil Smith said "Rob's a fellow Portsmouth resident so we couldn't wait to support him in his quest for glory. He's competed in all of the England's Strongest Man and Britain's Strongest Man competitions since 2005."
The sponsorship will assist Rob in his plans for 2013 which include competing in the Giants Live which will start his journey back to World's Strongest Man, something he missed last year due to an injury sustained at the British Giants Live tour.
Rob also holds workshops and seminars at his very own gym, Strength-Tec, in Fareham, and will this year take the workshops to other gyms in Gravesend, Torbay, Coventry and Swindon.
Neil added, "It's always a thrill to sponsor local athletes as a local business. We'll be cheering him on from our showroom this summer as most of Rob's European competitions will be televised."
Notes to Editors.
http://www.radweb.co.uk
http://www.imperialcarsupermarkets.co.uk
For further information please contact Steve Rad:
03333 444 505
steve(at)radweb(dot)co(dot)uk
Portsmouth, UK Office:
+44 (0)33 33 444 505
12 Acorn Business Centre,
Northarbour Road,
Portsmouth,
PO6 3TH