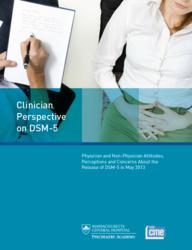 Ultimately, this manual and the way in which clinicians apply its guidance impacts every patient treated by the mental health community. It's a significant development for all clinicians.
Boston, MA (PRWEB) April 23, 2013
The Massachusetts General Hospital Psychiatry Academy, in collaboration with online education provider myCME.com, today released a new white paper on attitudes, perceptions and concerns about the upcoming publication of the fifth edition of the Diagnostic and Statistical Manual of Mental Disorders (DSM-5) in May 2013. Entitled Clinician Perspective on DSM-5, the white paper highlights the results of a survey that measures clinicians' anticipation about DSM-5, concerns about the impact of new guidelines on clinical practice, plans to become educated about DSM-5, and more. The white paper is available for free at http://www.mghcme.org/DSM5.
"Development of the DSM-5 has been met with varied opinions and even some skepticism from many in the field of mental health," says Tristan L. Gorrindo, MD, director of postgraduate education at Massachusetts General Hospital. "Ultimately, this manual and the way in which clinicians apply its guidance impacts every patient treated by the mental health community. It's a significant development for all clinicians, and the anticipation and concern we see is an indication that many clinicians recognize that."
The white paper highlights a number of interesting findings:

42% of clinicians overall indicate they have a high level of anticipation about the release of DSM-5.
2/3 of clinicians have some level of concern about understanding changes in diagnostic criteria.
40% of clinician indicate some level of concern that it will take time to understand changes in DSM-5 and incorporate them into practice; a notably higher percentage of physicians says they're very concerned (15%), compared with non-physicians (2%).
Top five therapeutics areas of particular concern: bipolar disorder, autism spectrum disorders, depression, substance use disorders, and PTSD.
6 out of 10 clinicians feel the changes to DSM-5 will have at least a somewhat significant impact on their clinical practice – more than a quarter of physicians expect a very significant impact.
47% of clinicians say they plan to look for information on DSM-5 as soon as it's released, and another 30% plan to look for information a short time later.
49% of clinicians plan to use online education as their preferred format to get information about DSM-5, while nearly a quarter will turn to journals.
"Since the majority of clinicians plan to look for information about DSM-5 quickly, it's important for larger health systems to help disseminate the manual and appropriate guidance to their staffs and into their communities," Dr. Gorrindo adds. "In addition, how third party payers will adopt these new diagnostic criteria also has implications for physicians seeking prior authorizations and higher levels of care. Successful navigation of the system depends on putting in the time to understand new diagnostic criteria."
"The accessibility and lower cost of online education makes perfect sense for this type of broad, interdisciplinary change in guidelines," adds Ken Kramer, PhD, SVP and medical director of Haymarket Medical Education. "So online education providers should be proactive in developing high-quality education on DSM-5."
Download the full white paper for free at http://www.mghcme.org/DSM5. For questions and media requests, contact Glenn Laudenslager, MGH Psychiatry Academy, 203-701-9650, glaudenslager(at)partners(dot)org.
About the Massachusetts General Hospital Psychiatry Academy
For physicians and healthcare professionals who value the highest standards of clinical care, the Massachusetts General Hospital (MGH) Psychiatry Academy is dedicated to providing world-renowned postgraduate education that improves clinical practice and leads to better lives for patients and their families. Advanced teaching methods, an interactive learning format, and a focus on solving real-world, practice-related challenges give the MGH Psychiatry Academy international recognition for helping providers effectively diagnose and treat a compendium of diseases and illnesses. Learn more at http://www.mghcme.org.
About myCME.com
myCME, a division of Haymarket Medical Education, provides clinically relevant, independent, certified medical education online to physicians, nurse practitioners, physician assistants, and other healthcare professionals based in the U.S. and around the globe. Launched in 2009, myCME has quickly grown into a premier online educational site that provides impactful, practice-changing CME and CE across multiple specialties with an average of 275 educational activities available at any time. In the past 4 years, the site has seen significant growth, resulting in more than 300,000 certificates used in 2012 alone. myCME is a part of a network of digital and print properties produced and developed by Haymarket. The network reaches more than 495,000 clinicians in the U.S., with the ability for them to access myCME through any computer as well as their smartphones and tablets through the myCME App.