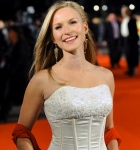 God is moving through the faith-based film movement across our country and...AMTC's ministry is a part of this journey
Atlanta, GA (PRWEB) April 23, 2013
Non-profit Christian ministry Actors, Models and Talent for Christ (AMTC) has been scouting the country, searching for actors, models, singers, dancers and comedians who are called to become positive role models in the entertainment industry.
The AMTC team will be screening local Maryland and DC talent at 10am and 2pm at the Baltimore Convention Center on April 27th. Professionals and amateurs, ages 4 and up are invited to attend. Auditions are free of charge.
Founded in 1982, by supermodel Millie Lewis and her daughter Carey Lewis, AMTC is a mission and a movement that provides aspiring performers with professional direction, industry introductions and spiritual preparation so they can shine for Christ in the entertainment industry.
This exciting Maryland event will be hosted by Carey Lewis, Chief Serving Officer for AMTC. Carey says, 'In our first 24 years, AMTC became a power player, launching stars in film, fashion, music and theater, but something was missing.' She discovered the 'It' was God. Lewis had a 'come-to-Jesus' meeting in 2006. She felt called to bring AMTC along. 'People thought I was crazy, that AMTC could not exist as a boldly Christian company, but they were wrong,' laughs Lewis. 'When God appoints a person or a company to a mission, He will see it done and nothing on earth can stop it.'
Carey is thankful that AMTC has become a shepherd of God's movement into media: the most influential mission field on earth. 'God is preparing an army of performers.' She says, 'AMTC's job is to find them and guide them up the mountains of arts and entertainment.'
AMTC has been the starting point for hundreds of successful artists and grads like Mathai from The Voice, Taylor Beckham The Voice's Season 4 Team Blake, Two America's Next Top Models (CariDee and Whitney Thompson), Charles Michael Davis commercial model for Nike, actor in Switched At Birth and Grey's Anatomy, Stephen "tWitch" Boss from Step It Up Revolution, Ben Davies from Courageous and Aaron Conley as Young Simba from The Lion King on Broadway. AMTC teaches talented people what they need to know and connects them with an array of talent agents, managers and casting directors as the "go-to" source who can create larger opportunities, as confirmed by corporate representatives.
Actors, Models and Talent for Christ Maryland auditions are being held in Room 307 at the Baltimore Convention Center One West Pratt Street Baltimore, MD 21201 Phone: 410.649.7000
Participants can register at http://www.amtcaudition.com/