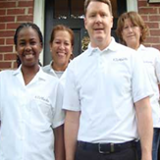 Your Ally in Cleaning
Atlanta, Ga (PRWEB) April 24, 2013
AllyMaids, formerly known as MaidRite of Atlanta, has earned their place in the industry as a prominent Atlanta maid service that specializes in cleaning apartments and residents. With the name 'MaidRite of Atlanta' being difficult to trademark due to so many others entities having that name as well in various forms, Wayne Bedenbender (Vice President and Director of Marketing for Allymaids) says "I put on my thinking cap and came up with a fresh new name 'AllyMaids' in which we have now been able to successfully trademark through the United States Patent and Trademark Office. We have now been awarded an official trademark with 4263835 as our official registration number."
AllyMaids has been providing professional maid services in the metro Atlanta area since August of 1995 keeping the same team and owners. They specialize in cleaning corporate apartment homes, condos and single family dwellings in the areas of Buckhead, Midtown, Lenox, Dunwoody, Vinings, Alpharetta and some other surrounding areas. The company provides general cleaning such as: the kitchen, exterior of appliances, bathrooms, mirrors, scour and polish sinks, chrome, clean all types of flooring, vacuum, dust, trash removal and make beds with fresh, clean linens. AllyMaids also provides move in/move out services, office cleaning, spring cleaning and post-renovation cleaning. For more details and pricing of their services, visit their website at http://www.allymaids.com.
In addition, AllyMaids has started a new referral program that rewards their clients when referring their services to others. Ben Blair (President and General Manager of AllyMaids) states "When a person refers someone to us, we like to say 'Thank you' by giving a $10 credit off of their next cleaning service". Ben also adds "AllyMaids is a small business that strives to live up to our motto 'Your Ally in Cleaning' with a goal of meeting and exceeding our client's expectations."
To learn more about AllyMaids and their professional cleaning services, follow the link: Atlanta Maid Services.