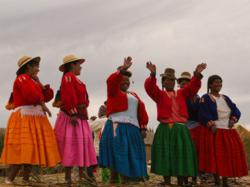 As we gear up for our latest Inca Empire tour we thought it would be a great time to share our excitement. We hope that the Pin to Win promotion will encourage someone to finally embark on that South America experience they've been dreaming about
Tampa, FL (PRWEB) April 24, 2013
Viventura, delivering authentic South America Tours and experiences for over 12 years, kicks off its new Inca Empires tour to Peru and Boivia with its first ever Pin to Win promotion. The promotion, which started on April 16, offers the chance for travelers to win one of (3) $1,000 vouchers to use when they book a Viventura South America tour.
Reach mountain vistas in the Andes, bike the world's most dangerous road or cast a fishing net into a crisp, glassy sky-high lake like the locals do. Though the winning traveler can use the voucher on any South America tour, the promotion is being run in conjunction with Viventura's latest addition to their Peru holidays and Bolivia vacations portfolio. Experience some of these countries' most popular destinations like the city of Lima, Machu Picchu, Lake Titicaca, La Paz and more.
The Pin to Win promotion provides an opportunity for travelers to get acquainted with Viventura tours, well known for its signature Learn from a Local program, and guides passionate about South America according to Viventura CEO Andre Kiwitz.
"As we gear up for our latest addition, the Inca Empires tour, we thought it would be a great time to share our excitement. We hope that the Pin to Win promotion will encourage someone to finally embark on that South America vacation they've been dreaming about," Kiwitz said.
Travelers can enter in five easy steps:

Follow Viventura on Pinterest at Pinterest.com/viventura
Create a board under the Travel category and name it "Viventura Pin Your Way to South America"
Pin images of the ultimate South America vacation including at least 5 images from Viventura.com
Hashtag all pins #ViventuraPinYourWaytoSouthAmerica
Post the address of the board at Facebook.com/viventura
What better place to use that voucher than to book a spot on one of the upcoming Inca Empires tour to Peru and Bolivia? For only $1,249 this eight-day tour gives travelers the chance to explore the underground catacombs of the San Francisco Monastery in Lima, wander through temple ruins and Ancient Inca worship sites, take in panoramic views of the unforgettable beauty of Cuzco and the Andes, and watch the sun rise over the misty morning in Machu Picchu, the lost city.
The tour incorporates visits to some well-known attractions but it's far from ordinary thanks to opportunities for travelers to delve into the local culture with Viventura's Learn from a Local program.
"As far as we're concerned there is no other way to experience South America than to immerse yourself in it. We go beyond the typical travel brochure experience and strive to give our travelers a truly educational and absolutely memorable experience," Kiwitz said.
With the Learn from a Local program, travelers on the Inca Empires tour will get an introduction to Peru's famous cuisine by learning how to prepare ceviche from a Peruvian chef paired with a Pisco sour, Peru's national drink.
Travelers will also get to stay the night on the man-made floating islands of the Uros and take part in their daily life. Participants can take a weaving class, and cook and fish as the natives have done for thousands of years all while creating an experience that will last a lifetime.
Get ready to live like a local in the Inca Empire with Viventura.
About Viventura
Founded in Germany in 2001 Viventura provides high quality South America tours and travel experiences to more than 2,000 travelers a year. Its signature Learn from a Local program allows travelers to try an experience that is specific to the region they are visiting. Catering to travelers wanting a mix of activities and destinations Viventura tours highlight some of the best tourist attractions as well as some of the lesser known, more cultural experiences. Visit http://www.Viventura.com to book a South America tour.