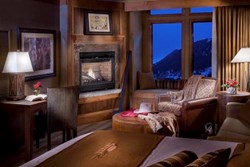 "We've made their favorite Jackson hotel even better," says General Manager Mike Solis.
Jackson Hole, Wyoming (PRWEB) April 23, 2013
Four years ago the Wyoming Inn in Jackson Hole, Wyo., started a down-to-the-studs renovation of its 68 guest rooms, at a cost of approximately $70,000 per room – plus a remodeled restaurant, board room and fitness center. On May 17, 2013, the popular in-town Jackson, Wyoming, hotel will have its Grand Re-opening, with special introductory rates starting from $149/night through May 31 as guests have the opportunity to experience the $4.5 million-dollar renovation firsthand.
"Returning guests will be pleasantly surprised at what they find," says General Manager Mike Solis. "We've made their favorite Jackson hotel even better."
With the renovations, the hotel retains its popular cozy Western charm but with fresh modern details. Every guest room has been remade with new carpet, wallpaper, drapes and ultra-high thread count linens. The luxuriously appointed rooms feature a soothing autumn palette of brown, green and gold, incorporating rich natural elements like a saddle leather ottoman and botanical photographs and prints by artist Dennis Rhoades.
Window seats were added in 24 of the rooms; 17 rooms have fireplaces surrounded with copper tile and wood paneling and featuring natural sandstone hearths; and bathrooms received a high-gloss upgrade with granite countertops, glass encased showers with porcelain tiles from floor to ceiling, and porcelain sinks.
All of the freshly upgraded rooms are equipped with in-room coffee makers, microwaves and refrigerators – and all were designed with the "connected traveler" in mind with ample outlets throughout the room and Sunbeam Elite alarm clocks with phone chargers, iPod connectivity, white noise and voice-guided instructions to set alarms.
The Wyoming Inn undertook the major changes in three phases to avoid disruptions to guests: during phase one, the exterior received new roofing, siding, rockwork and landscaping. In phase two, public areas including the board room and fitness center were remodeled, and the restaurant was expanded. In phase three, the bathrooms were remodeled, followed by the complete renovation of all guest rooms.
Wyoming Inn Grand Re-opening introductory rates will start from $149/night available from May 17 – 31, 2013.
The Wyoming Inn is one of four properties in the Western Inns group, boutique hotels located near some of the U.S.'s most popular national parks from Yellowstone to Yosemite. In addition to the Wyoming Inn in Jackson, Wyo., the group includes the Creekside Inn in Bishop, Calif., the Olympic Inn in Klamath Falls, Ore., and the Olympic Lodge in Port Angeles, Wash. Owned and operated by Tod McClaskey, the hotels are known for their outstanding customer service and comfortable accommodations. All of the properties are top rated on TripAdvisor. For additional information on the properties visit http://bit.ly/westerninnsportfolio.
Company Information: Just 10 minutes from Jackson's Town Square, the Wyoming Inn offers free shuttle service from the airport and to Jackson Hole Mountain Resort. Known for its spacious, comfortable rooms, luxurious amenities and warm Western hospitality, the favorite Jackson, Wyo., in-town hotel is true to its mission of providing outstanding customer service, with a friendly staff glad to seamlessly arrange a variety of Jackson Hole activities suited to guest interests. Conveniently located on the town's free shuttle line, the hotel provides numerous complimentary offerings including an on-site fitness center and wireless Internet. For information, visit http://www.wyominginn.com or call 800.844.0035.
Media Contacts: General Manager Michael Solis, Wyoming Inn, mike(at)thewyominginn(dot)com, 307.734.0035; Darla Worden, WordenGroup Strategic Public Relations, darla(at)wordenpr(dot)com, 307.734.5335