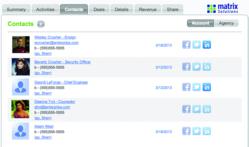 Pittsburgh, PA (PRWEB) April 23, 2013
Matrix Solutions, the leading provider of Media CRM and Sales Analytics Software, today announced a new release of its CRM & Sales Analytics Software. The enhanced functionality and new features will provide sales professionals with the ability to better manage their sales operations with 'what-if' scenarios and modeling capabilities, live online support, and improved account profile pages that provide easy access to key contact and sales data.
"We work very closely with our customers to continually listen and learn as much as we can about their ever-changing operations so that we can further advance our software to improve their sales efficiencies," said DJ Cavanaugh, CEO and Partner, Matrix Solutions. "More than 75% of this new release comes as a direct result of listening to both our current users and prospects; which speaks volumes of our commitment to making salespeople better."
The most significant features in the new release include:
•What-if scenarios – Managers can create self-contained "what-if" scenarios and mock reassign accounts to salespeople. This enables them to see first-hand how it impacts their revenue and forecast for current and future years before actually implementing. Once the manager produces a scenario they are happy with; one click globally executes the changes they established in the 'what-if' modeling.
•Live chat customer service – The new 'Chat' feature will be launched on a rolling basis over the next few months. It enables Matrix customers another vehicle to connect with a software support representative instantly online.
•Enhanced account profile pages – The same content exists, but in a new tabbed layout, giving users easier visibility and access to pertinent contact information. The added account bubbles lets users see at a glance what activities are up and coming. The summary tab within each account aggregates key data in one place, such as activity, deals, and even a twitter feed – so the Account Manager gets a 360 degree view. Another enhancement is the ability to further define activity type, i.e. a call activity can now feature a sub list to include what type of call – cold call, follow-up, meeting, etc…
•In addition to the improved features and functionality that are visible to the Matrix users, there are also the enhancements behind the scenes, such as the building of APIs to start pulling and pushing data with more potential partners and integrations.
The new release was fully deployed to all current customers on April 20, 2013. Given that the Matrix CRM & Sales Analytics Software is both a hosted and web-based solution the update will be transparent to the over 4500 users with little to no disruption in service.
About Matrix Solutions
Matrix Solutions is the leading provider of CRM and sales management software for media companies. Our software products, Matrix™, Matrix SalesCenter™ and MatrixPlus™ help sales professionals develop and implement strategies to grow advertising revenue by providing the information about sales history and trends, and the tools to manage and grow customer relationships and opportunities. Matrix Solutions was founded in 1992, however in the fall of 2011 we launched a completely new web-based product that had CRM functionality built in for the first time. New clients include Media General, Belo Television, Townsquare Media, Journal Broadcasting and Raycom Media.
For more information on Matrix Solutions, visit http://www.matrixformedia.com.