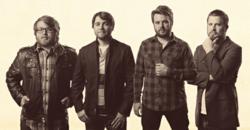 "We all love playing rock music, and we've stayed true to ourselves," said Jonathon Pretus. "We're not trying to fool anyone or be something we're not. We're giving them the absolute best of us, and I think people appreciate that."
New Orleans, LA (PRWEB) April 23, 2013
Filled with pounding rhythm, soaring harmonies and slamming drums, New Orleans band, The Breton Sound, defies trends and firmly plants themselves in the territory of rock with the debut today of their EP "Maps (or Cartography and the Art Of Generalization)."
The first single, "Standing on The Edge of The World," is urgent, driving and riff-based with soaring harmonies. "Brighter Than The Sun" isn't just a song, it's an anthem with a sing-along chorus that brings to mind Oasis. The bold, heavy, and diverse sounds with colossal, gleaming hooks aren't the only high points of the EP.
These new songs find The Breton Sound reunited with producer Tom Drummond, best known as the bassist for New Orleans' favorite alt-rock trio Better than Ezra. Recorded live at Fudge Studios in New Orleans with Drummond at the helm, "Maps" is full of the energy and feel of the Foo Fighters, the melodies of Weezer and guitar heroics that bring to mind Muse had they grown up on Van Halen.
The Breton boys have played in a variety of bands around New Orleans for years ranging from punk rock to progressive instrumental. However it wasn't until early 2012 that original members, guitarist Stephen Turner and lead singer Jonathan Pretus, solidified the band into the foursome we know today with the addition of Jonathan's brother Brian Pretus on bass and long-time friend and drummer Jonathan Alcon. Recently deemed one of the "12 Louisiana Bands You Should Listen To" by "Paste Magazine," the brave collaboration has paid off in big ways.
"The idea was to start a project where our polar opposite musical backgrounds find a common ground and see what happens," says Turner on the band's sound dynamic that candidly shines throughout "Maps." Located somewhere between punk rock and pop rock, classic and current—the actual sound is as unique as the four members of the band, backed by a catchy melody that binds it all together.
The Breton Sound has quickly been accepted in the ever-growing scene that is the Louisiana music industry, earning a spot on the coveted Jazz & Heritage Festival stage. They will play the Lagniappe Stage this Friday, April 26 at 11:40 a.m.
One week later, on Saturday, May 4, the band will curate Rock 'n' Hops, a concert at NOLA Brewing to showcase other Louisiana musicians they admire and to raise funds for MusiCares. Coyotes, Liam Catching & the Jolly Cat and Bantam Foxes, among others will rock the brewery for a good cause. Doors will open at 8:00 p.m. CST. Tickets for this 21 and up event will be $20 in advance, $25 at the door and include all-you-can-drink craft beer.
"We all love playing rock music, and we've stayed true to ourselves," says Jonathon Pretus. "We're not trying to fool anyone or be something we're not. We're giving them the absolute best of us, and I think people appreciate that."
For more information on The Breton Sound and their upcoming endeavors, please visit http://www.thebretonsound.com or follow them on Facebook, Twitter or Instagram. For more information on Rock 'n' Hops, visit https://www.facebook.com/RocknHops.