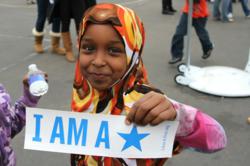 The Drucker Award has helped us to find the innovators, whether small or large; to celebrate their example; and to inspire others.
Claremont, CA (PRWEB) April 23, 2013
The Drucker Institute at Claremont Graduate University has announced a call for applications for the 2013 Peter F. Drucker Award for Nonprofit Innovation.
The prize is $100,000, thanks to a generous grant from The Coca-Cola Foundation.
The award application is now available on the Drucker Institute website. The submission deadline is July 1. If you have questions about the application or award process, please contact award(at)druckerinstitute(dot)com.
Administered annually since 1991, the Drucker Award is granted to a social-sector organization that demonstrates Drucker's definition of innovation—"change that creates a new dimension of performance". In addition, the judges look for programs that are highly effective and that have made a demonstrable difference.
"For the past two decades, the Drucker Award has helped us to find the innovators, whether small or large; to celebrate their example; and to inspire others," said Rick Wartzman, executive director of the Drucker Institute. "And each year, the judges have an extremely difficult choice to make in picking a final winner. I have no doubt that, once again, 2013 will bring us a large number of exciting and very well-qualified applicants."
The Drucker Award application has been designed as a teaching tool, providing those organizations that fill it out with some of Peter Drucker's key insights on innovation. Last year, 96% of respondents to an Institute survey indicated that the application had, in fact, given them a better understanding of how their program was innovative and 86% were prompted "to explore additional opportunities for innovation."
Hailed by BusinessWeek magazine as "the man who invented management," Drucker not only consulted for major corporations; he also advised the Girl Scouts of the USA, the Red Cross, the Salvation Army and countless other social-sector organizations. He called the nonprofit "America's most distinctive institution."
The 2012 first-place Drucker Award winner was The American Refugee Committee, a Minneapolis-based nonprofit that has engaged the global Somali community to help shape and lead ARC's humanitarian response in their native country. The award recognized, in particular, ARC's I AM A STAR program for leveraging the direct involvement of the Somali diaspora community to improve the lives of 170,000 people on the ground in Somalia by providing them with clean water, sanitation and healthcare. ARC based its model on a simple premise: A country's global diaspora is not a lost resource but, rather, the greatest asset available in building a humanitarian response in that country.
About the Drucker Institute
The Drucker Institute at Claremont Graduate University is a social enterprise whose purpose is to strengthen society by igniting effective, responsible and joyful management. It does this by turning Peter Drucker's ideas and ideals into tools that are both practical and inspiring.
To meet its mission, the Institute hosts collaborative forums for executives from across all sectors; works with high school and middle school students to teach them basic management principles and equip them with lifelong tools for effectiveness; produces curricular material that distills Drucker's decades of leading-edge thinking, including a management training system called the Drucker Management Path; and acts as a hub for a worldwide network of Drucker Societies: volunteer-driven organizations that are using Drucker's teachings to bring about positive change in their local communities.
In addition, the Institute maintains a digital archive of Drucker's papers and other holdings related to the fields of management and leadership; undertakes research that builds on Drucker's writings; offers an annual $100,000 prize for nonprofit innovation; applies Drucker's work to current events (through a regular online column in Forbes by Institute Executive Director Rick Wartzman; a daily blog called the Drucker Exchange; and a monthly radio show called "Drucker on the Dial"); and hosts visiting fellows with Drucker-like insights and values.
The Institute is a close affiliate of the Peter F. Drucker and Masatoshi Ito Graduate School of Management, which is training the next generation of leaders and managers to do good while they do well.
For more on the Drucker Institute, please visit: http://www.druckerinstitute.com.
About Claremont Graduate University
Founded in 1925, Claremont Graduate University is one of the top graduate schools in the United States. Our nine academic schools conduct leading-edge research and award masters and doctoral degrees in 22 disciplines. Because the world's problems are not simple or easily defined, diverse faculty and students research and study across the traditional discipline boundaries to create new and practical solutions for the major problems plaguing our world. A Southern California-based graduate school devoted entirely to graduate research and study, CGU boasts a low student-to-faculty ratio.
About the Coca-Cola Company
The Coca-Cola Company is the world's largest beverage company, refreshing consumers with more than 500 sparkling and still brands. Led by Coca-Cola, the world's most valuable brand, our Company's portfolio features 16 billion-dollar brands including Diet Coke, Fanta, Sprite, Coca-Cola Zero, vitaminwater, Powerade, Minute, Simply, Georgia and Del Valle. Globally, we are the No. 1 provider of sparkling beverages, ready-to-drink coffees, and juices and juice drinks. Through the world's largest beverage distribution system, consumers in more than 200 countries enjoy our beverages at a rate of more than 1.8 billion servings a day. With an enduring commitment to building sustainable communities, our Company is focused on initiatives that reduce our environmental footprint, support active, healthy living, create a safe, inclusive work environment for our associates, and enhance the economic development of the communities where we operate. Together with our bottling partners, we rank among the world's top 10 private employers with more than 700,000 system associates. For more information, visit Coca-Cola Journey at http://www.coca-colacompany.com, follow us on Twitter @CocaColaCo or check out our blog, Coca-Cola Unbottled, at http://www.coca-colablog.com.