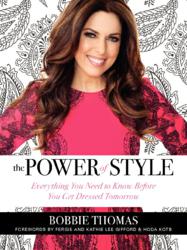 (PRWEB) April 23, 2013
Style goes far beyond fashion and beauty trends – it is a powerful way to say who we are and get what we want. So says NBC's TODAY show Style Editor Bobbie Thomas in her new book, THE POWER OF STYLE: Everything You Need to Know Before You Get Dressed Tomorrow (HarperOne; April 23, 2013; Hardcover; $26.99), a groundbreaking guide that begins from the inside out to help every woman achieve her most confident and beautiful self – with a look that is uniquely her own.
THE POWER OF STYLE is like having a professional girlfriend in a book. In warm, funny, empowering, engaging prose, Bobbie Thomas shows how every woman can create their own best look for every day, every occasion by tapping into their authentic self and not just by following fashion trends. The book is packed with easy-to-follow, fun practical advice including how to:

Master your image and what others see
Decode what your body language and wardrobe are saying
Get to the core of what confidence really is
Discover your six best colors and why they matter
Find the twelve most flattering cuts for your body type
Manage your closet and make it work for you
THE POWER OF STYLE is a must-read for every woman today, before she gets dressed tomorrow.
ABOUT THE AUTHOR
Bobbie Thomas has shared advice in nearly five hundred segments as Style Editor for NBC's TODAY show since 2005, including her weekly "Bobbie's Minute Buzz." Although her television career started on the red carpet for E!, the former cohost of the Style network's Fashion Police and national columnist began her work as a rape-crisis counselor. Uniquely understanding that beauty comes from the strength within, Bobbie has worked with major brands and organizations such as Step Up, Make-A-Wish, and the United Nations Foundation to promote positive campaigns and encourage people to use style as a powerful voice. Bobbie adores her dog, Chica, was born in Rhode Island, grew up in Los Angeles, and lives in New York.
PRAISE FOR THE POWER OF STYLE
"The next best thing to having Bobbie as your own personal style guru, supporter, and partner-in-crime, is having this book on your nightstand." — Fergie, from her Foreword to The Power of Style
"Bobbie helps you realize that each woman is a 'fierce force of nature in feminine form' with her own unique contribution to make in this world." —Kathie Lee Gifford and Hoda Kotb, from their Introduction to
The Power of Style