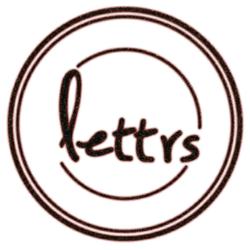 "The introduction of the lettrs mobile app is another major step toward our goal of making letter-writing relevant and easily accessible for anyone anywhere, at any time."
New York, N.Y. (PRWEB) April 23, 2013
Technology startup lettrs (lettrs.com) today announced the launch of the first-of-its-kind mobile app that will allow users to create, manage, and deliver paper or digital letters right from their iPhone.
The app, which costs $2.99, lets users deliver personal mobile letters for free anywhere in the world via the lettrs.com platform, turning their iPhone into a mobile writing desk.
Through Mother's Day, May 12, users can also deliver up to five free paper-post letters anywhere in the world by simply using the lettrs app, or by entering the code "mother" when choosing the "best" option on lettrs.com. With a fusion of technology and innovation, lettrs converts words onto scented fine linen writing paper, which comes folded in a colorful hand-crafted wrap, sealed with a wax stamp and in a hand-addressed envelope. After Mother's Day, standard pricing of $2 to $6 applies for paper-post letters while digitally delivered cloud letters remain free.
The app extends the lettrs.com platform, making it even easier to bring the social grace of letter writing to mobile and social networks. You can find the app in the iPhone app store here.
The lettrs iPhone app is being unveiled today at Postal Vision 2020/3.0, being held through tomorrow at L'Enfant Plaza Hotel in Washington, DC. The event focuses on reinventing the U.S. postal system and postal commerce for future generations. At the conference, lettrs co-founder and CEO Drew Bartkiewicz will present the lettrs iPhone app and will also moderate a panel of students in a discussion on the future of communications.
"The lettrs mobile app effectively brings the post office with you wherever you are," said John Callan, founder of PostalVision and a 30-year postal industry veteran. "The ability to create and mail a physical letter right from the iPhone is truly an innovation that should be embraced by the U.S. Postal Service, and by anyone who wishes to engage with others through a personal letter. I believe this application will energize an entirely new wave of the timeless art of personal letter writing."
The lettrs mobile app converts mobile voice, data and pictures to digital and paper-post letters. It allows people to dictate, modify and deliver a letter, helping to revive a more thoughtful mode of personal communication. lettrs is also committed to help people preserve the estimated 40 billion letters stored in boxes, drawers and basements across America.
"The lettrs app is uniquely designed for preserving and sharing noteworthy letters," said Robert Gordon, former Undersecretary of both Defense and Education and now Strategy Officer at APX Labs. "Letters past are not just words; they are history, relationships and literature that are part of the American fabric. Capturing them digitally will preserve them for generations to come."
With the lettrs mobile app, users can:

Type or dictate a letter on their iPhone, using more than 20 themes covering modern, vintage and artful digital treatments
Choose to deliver their letter in a hand-addressed, wax-sealed and scented envelope from the lettrs postal center or choose a digital delivery "in the cloud"
Use their iPhone camera to upload a handwritten letter and deliver it via the unique lettrs system
Preserve or share a letter in the cloud in the private space of a lettrs "shoebox" or the more public space of "the fridge"
"The introduction of the lettrs mobile app is another major step toward our goal of making letter-writing relevant and easily accessible for anyone anywhere, at any time," said Bartkiewicz. "In an age when most social media missives are quick hits without a great deal of thought behind them, I feel very strongly that people are hungry for more meaningful and deliberate communication in their lives. The lettrs mobile app is all about making the process of letter writing much more convenient, purposeful and lasting."
Via the lettrs cloud architecture, users can distribute a digital letter anywhere in the world with an Internet browser and PO Box at lettrs. The personal letters are managed in the cloud for each user to read, preserve, or share. The lettrs iPhone app is the first of many mobile products to come, with Android and iPad apps already under development.
About lettrs
lettrs organizes the world's personal letters in the cloud. It also offers a "cloud letter" platform, an innovative way to create and distribute web letters. Needing only one specific identifier of an individual (such as an email address, Facebook profile or Twitter handle), a person can send a letter anywhere in the world, all from an Internet browser or the lettrs iPhone app. lettrs is a meaningful communications platform for education, publishing, consumer brands and anyone who loves to write letters. For more information, visit lettrs.com.