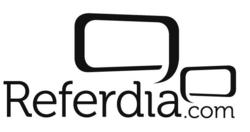 I saved over $100 with Referdia and my Smart Dollars," said Brenna Jazwa, a loyal Referdia customer.
Broadview Heights, Ohio (PRWEB) April 23, 2013
Headquartered in Broadview Heights, Ohio, Referdia.com offers a revolutionary national member benefits website featuring tremendous savings on thousands of local deals, name-brand merchandise, travel packages, retail gift cards, and energy. Referdia.com provides members a one-stop shop for savings from local, regional, national, and online retailers. Highlighted by our Smart Dollars program, members can save on over 10,000 brand name items. What makes Referdia.com unique is the combination of our Smart Dollars program that earns consumers added buying power with each purchase made, in addition to our Lowest Online Retail Price Guarantee on all merchandise purchases. "I wanted a handbag that retailed for $249.00 at the mall. I saved over $100 with Referdia and my Smart Dollars," said Brenna Jazwa, a loyal Referdia customer.
Referdia's unique membership subscription plans give shoppers the ability to claim an unlimited number of retailer discount offers without the need to pay for them upfront. Instead, members pay a low monthly membership fee, claim as many offers as they'd like, and pay for the discounted product or service only when they visit the retailer.
Shoppers benefit from exposure to thousands of discounted offers at guaranteed lowest prices, while businesses benefit from this revolutionary membership model as well. Participating businesses keep 100% of the profits from their discounted voucher sales paid directly from the in-store customer.
In addition to consumer savings and increased business profits, Referdia.com offers a one-of-its-kind platform for fundraising for schools and non-profits, and those efforts are being recognized. Celebrities and athletes that endorse Referdia.com include John Greco of the Cleveland Browns, actor Carl Clemons, boxing legend Roy Jones Jr., Chris Ivory of the New Orleans Saints, Derek Wolfe of the Denver Broncos, and Bruce Gradkowski of the Pittsburgh Steelers.
Visit Referdia.com and sign up for a free 14-day membership to explore the incredible savings available in your local area today.
Referdia.com Sharing Savings Everyday!
###