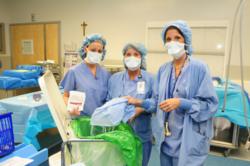 Youngstown, Ohio (PRWEB) April 24, 2013
Humility of Mary Health Partners continues to reduce its impact on the environment, recycling more than a million pounds of cardboard, paper, plastic, glass and other materials in 2012 and the organization is on track to exceed that this year.
"Our goal," says Matthew R. Waggle, HMHP regional director of environmental services, "is to foster a culture of environmental stewardship consistent with Catholic Health Partners' mission, values and environmental policy. So, we started a comprehensive recycling program in late 2010 and that has grown and expanded every year."
New projects and programs have been introduced regularly to continuously reduce the health care system's environmental footprint, Waggle says. The most recent project, he reports, is the introduction of a program at St. Elizabeth Health Center that provides for the blue wrap that keeps surgical instruments sterile to be recycled. Plans call for this pilot program to be introduced at St. Joseph Health Center in Warren and St. Elizabeth Boardman Health Center later this year.
"We need to determine how much material can be recycled at each site – based on what is recycled at St. E's – so we can determine the best way to do it," Waggle says. "If there is enough material, we may need a baler at each location."
A baler, which compacts the material and packages it into 125-pound bundles, was installed at St. E's earlier this month.
"If there isn't enough material to justify installation of a baler at each site, we need to figure out the best way to transport the material to St. E's where it can be baled," he continues.
Blue wrap is made of plastic that can be used to make everything from combs and toothbrushes to outdoor furniture. During the first week of the recycling program, the surgery department at St. E's generated more than 150 pounds of the material but there is potential to recycle much more.
Because blue wrap to be recycled must be perfectly clean there are strict guidelines for how it must be handled. If someone discards a glove or hairnet in the bag used to collect the wrap, everything in the bag must be discarded.
Several bags of blue wrap were discarded soon after the recycling program was introduced because staff inadvertently discarded other materials in the same bags.
As much as 30% of the waste generated by a hospital is generated in surgery, Waggle notes, and half of that is recyclable. So, there is a lot of opportunity, not only to reduce the amount of material being landfilled, but to reduce costs as well. Hospitals can experience a substantial savings, he says, if they reduce the amount of waste materials they pay to have hauled away.
Last year, HMHP recycled 295,000 pounds of cardboard – almost double the amount of cardboard it recycled in 2011 – 1.23 million pounds of confidential paper and 90,000 pounds of mixed materials, which consists of plastic, glass and aluminum beverage containers, newspapers and other material. This is in addition to the 10,000 pounds of plastic that are diverted from landfills every month as the result of the organization using reusable sharps containers – containers used to dispose of used needles. According to Waggle, the sharps container program was introduced in 2011.
Other Earth-friendly initiatives expected to be implemented this year include an alkaline battery recycling program and the introduction of water-conserving dishwashers.
About Humility of Mary Health Partners:
Humility of Mary Health Partners is an integrated health system located in the Youngstown/Warren area. It is a region of Catholic Health Partners (CHP) in Cincinnati, the largest health system in Ohio and one of the largest Catholic health systems in the United States. HMHP provides a full spectrum of health care services, including inpatient, outpatient, emergency, urgent care, home care and long-term care. Members are St. Elizabeth Health Center, St. Joseph Health Center, St. Elizabeth Boardman Health Center, HM Home Health Services, The Assumption Village, Humility House, Hospice of the Valley and Laurel Lake. Learn more about HMHP online at http://www.HMpartners.org. ###