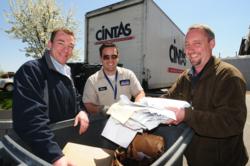 Youngstown, Ohio (PRWEB) April 23, 2013
Humility of Mary Health Partners won the prestigious Melvin Creeley Environmental Leadership Award for the third consecutive year. The Ohio Hospital Association announced the winners yesterday in honor of Earth Day.
The Melvin Creeley Award honors hospitals that promote sound environmental practices through environmental stewardship and exemplify best practices for other hospitals to emulate. Humility of Mary Health Partners is among only 12 hospitals throughout Ohio to be honored this year.
"We're not being recognized for a specific project, but rather our continuing efforts to reduce our impact on the Earth and achieve environmental sustainability," reports Matthew R. Waggle, HMHP regional director of environmental services. "We are very deliberate in all of our new construction to make sure we are diverting construction waste so it is not buried in a landfill, and in choosing sustainable building materials. And, we work continuously to recycle materials generated by hospital operations and to reduce the resources we consume."
Humility of Mary Health Partners continues to expand its recycling efforts both in-house and by introducing programs that are open to the community. As an example, community shred events are taking place this week at St. Elizabeth Health Center, St. Joseph Health Center and St. Elizabeth Boardman Health Center. Last year, a similar event diverted 5.42 tons of paper from the waste stream. That equated to saving 11 barrels of oil, 92 trees, 38,262 gallons of water, 21,864 kilowatts of electricity and 16 cubic yards of landfill space, Waggle reports.
Last year, HMHP recycled 295,000 pounds of cardboard, 1.23 million pounds of confidential paper and 90,000 pounds of mixed materials, which consists of plastic, glass and aluminum beverage containers, newspapers and other material. This is in addition to the 10,000 pounds of plastic that are diverted from landfills every month as the result of the organization using reusable sharps containers – containers used to dispose of used needles.
Earth-friendly initiatives new to HMHP this year include a program to recycle the material that keeps surgical instruments sterile, which was introduced at St. Elizabeth Health Center earlier this month, an alkaline battery recycling program set to get under way later this year, and the introduction of water-conserving dishwashers.
The award is named after Melvin Creeley, the retired president and CEO of East Liverpool City Hospital who served as chairman of the Ohio Hospital Association's Environmental Leadership Council from its inception in 2001 to 2010.
As a recipient of the Melvin Creeley Award, HMHP is also in the running for the OHA's John Chapman Award. The winner of this award, named after Johnny Appleseed, recognizes a hospital or health system that demonstrates excellence in initiating or supporting pollution prevention programs. The winner will be announced in June.
About Humility of Mary Health Partners:
Humility of Mary Health Partners is an integrated health system located in the Youngstown/Warren area. It is a region of Catholic Health Partners (CHP) in Cincinnati, the largest health system in Ohio and one of the largest Catholic health systems in the United States. HMHP provides a full spectrum of health care services, including inpatient, outpatient, emergency, urgent care, home care and long-term care. Members are St. Elizabeth Health Center, St. Joseph Health Center, St. Elizabeth Boardman Health Center, HM Home Health Services, The Assumption Village, Humility House, Hospice of the Valley and Laurel Lake. Learn more about HMHP online at http://www.HMpartners.org. ###