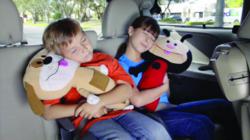 "SeatPets transforms seat belts from scratchy and rigid to cute and cuddly - perfect for road trips," said Kim Orlando of TravelingMom.com.
New York, NY (PRWEB) April 23, 2013
The familiar ring of the end-of-year school bell that parents dread (and kids rejoice in) is right around the corner, and so is summer vacation! Whether visiting the beach, the mountains, heading to summer camp or traveling abroad, SeatPets will keep children entertained and comfortable. No more asking, "Are we there yet?"
SeatPets were very recently endorsed by Kim Orlando of TravelingMom.com. "SeatPets transforms seat belts from scratchy and rigid to cute and cuddly - perfect for road trips," she said. This is the first TravelingMom.com Approved Award for SeatPets. TravelingMom.com is a trusted source in travel and has been quoted or featured in GoodHouseKeeping.com, Forbes.com, The Wall Street Journal, NY Times Travel and named one of the top four family travel sites by Sherman Travel.
SeatPets are plush pillows with a seat belt attachment that provide comfort and support to your child's neck and head while resting in the car. They have compartments to stow snacks, drinks and toys all while keeping children happy and entertained.
SeatPets recently joined the Jay@Play family and launched seven new designs: Malibu the Monkey, Love Bug the Lady Bug, Mercedes the Cat, Yukon the Cow, Lincoln the Lion, Edsel the Monster and Bentley the Dog.
This parent-invented product went on to win three awards from top toy industry organizations in 2012. "SeatPets were born out of my frustration as a mom looking in the backseat of the car and seeing my sleeping children's heads dangling. Our adorable design solved this problem," said Amber Roback, COO and co-inventor.
SeatPets are available for purchase online at http://www.seatpets.com for $19.99.
###
About Jay@Play:
Jay@Play International offers solution-based products that have been lauded by the toy industry, bloggers and the press. Established in 2004, Jay@Play is a Hong Kong-based company with a showroom in New York City. Their products are distributed internationally through companies that promote all of their brands on television. Following the worldwide success of its Little Miss Muffin and Happy Nappers product lines, Jay@Play introduced CuddleUppets and Shamzees in 2012. New products for 2013 will include SeatPets, I Luv Shmoozees and Tummy Stuffers. Jay@Play International is a subsidiary of Jay Franco & Sons Inc., the home furnishing industry leader.