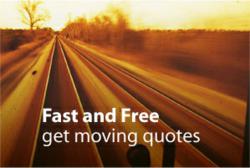 (PRWEB) April 25, 2013
The moving guides provided on Move Network website list the steps people need to take before, during, and after the move. Although moving is rated as one of the most stressful experiences in life, proper planning and preparation can help people to make smooth and easy moves. The relocation guide helps people to plan their moves properly and avoid common mistakes. 
 
MoveNetwork.com helps people to get free quotes from dependable moving companies. People can request quotes within minutes and compare them before choosing a service provider. Pre-screened companies that are part of Move Network database will send quotes directly to the customer. The credentials and reputation of the companies are checked carefully before they are included in the database.
 
The database is reviewed at regular intervals to assess the performance of the companies. The service providers offer their lowest rates because they are competing for the customer's order. This helps people to get high-quality services at affordable prices.
 
Make a moving checklist: A checklist will help to reduce the stress that is associated with moving. It helps people to remember all the things they need to do. Those who are planning to relocate can jot down points on the checklist as soon as they think of them. Tasks can be listed with the dates by which they are to be completed. 
 
Look for a reputable moving company:  People can get much better deals by shopping around and comparing moving quotes. They need to browse through online reviews to see if the companies they are considering have been making their customers happy. A professional company will provide good service at a fair price and the customer will have peace of mind.
 
Start packing early: It is much easier to pack a few moving boxes every day rather than to try to pack everything at the last moment. Get high-quality moving supplies that will protect valuable possessions. It will be easier to find things at the destination if the contents of each box are listed on the label. The label can also mention the room in which each box is to be put.
 
Obtain a floor plan of the new house: A floor plan helps people to decide about where heavy furniture, appliances, and other items are to be placed. The spots where each item is to be put can be marked on the floor plan. This helps to ensure that heavy items will be put in the right places.
 
Move Network makes it easy to request free quotes from the top movers. People can compare quotes and check the reputation of the service providers before they decide. This is a free, no-commitment offer.
 
About MoveNetwork.com
The company offers an online service that has been helping people to get the best moving deals since 2001. Move Network been working ceaselessly to inform and educate people about how they can make hassle-free moves.