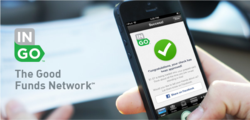 We were looking for a name that was more appropriate for our network beyond checks.
Atlanta, GA (PRWEB) April 24, 2013
Chexar Networks, Inc. ("CHEXAR®"), a leading provider of financial risk management solutions, announced the new branding for its universal account funding network currently in BETA as the Spyke Network. Effective May 15, the Spyke Network will become Ingo - The Good Funds Network (http://www.ingomoney.com). Chexar defines "Good Funds" as the funds that a consumer can feel safe spending without the risk that the bank or card program will reverse their deposit for some reason at a later date.
Chexar Networks, Inc. ("Chexar") announced last October the launch of the network to digitize traditional banking services for consumers. The network enables prepaid cardholders to deposit good funds to their reloadable prepaid card using their mobile device, by simply snapping a photo of a paper check. Powered by Chexar's technology, including its remote deposit capture platform, the service provides prepaid cardholders with immediate access to funds on their prepaid card, enhancing convenience and security and reducing costs for consumers.
Drew W. Edwards, founder and CEO of Chexar, said "we were looking for a name that was more appropriate for our network beyond checks. The network's initial functionality is the remote deposit capture of paper checks using mobile devices but future functionality will expand to enable the movement of good funds from other sources. An example would be the capability for an enrolled consumer to move money from their bank account to their prepaid card with an option to get good funds there in minutes, rather than typical delays as long as several days. The concept here is that the consumer should be able to easily put their money in and go on with their life."
About Chexar
Chexar is the national leader for technology and solutions for converting paper checks into Good Funds defined as irreversible value. Chexar is currently deploying Ingo - The Good Funds Network, as the market's leading solution to enable any consumer to convert any type of check into Good Funds from mobile and other remote capture devices.
The company's one-of-a-kind solutions combine multiple national databases, rules engines, and proprietary technology with redundant 24/7 risk management centers to achieve the industry's highest automated and overall approval rates without limiting check type and size. Today, thousands of large financial institutions and non-bank financial services locations utilize Chexar's technology and solutions to generate fee income and manage risk nationally. Chexar's solutions lead the market in providing Good Funds across all channels including retail check cashing outlets, bank teller lines, self-service kiosks, bank ATMs, and on mobile smartphones.
More information can be found at http://www.chexar.com, http://www.spykenetwork.com and http://www.ingomoney.com.
###