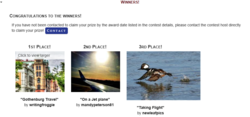 We would like to thank everyone who entered The Big Photo Show is Seriously Fun Photography photo challenge. There was an incredible response and so many fantastic images that it made it a difficult job for our judges.
Los Angeles, California (PRWEB) April 25, 2013
A new show is coming to town, The Big Photo Show. The Inaugural event will take place at the Los Angeles Convention Center May 4-5 and will be the first venue of many across the United States. Photo enthusiasts from amateurs to professionals are encouraged to browse this year's photo contest winners and partake in this year's show.
PhotoScramble would like to thank everyone that participated in The Big Photo Show is Seriously Fun Photography competition including the judges and sponsors that helped make it happen. Photo contest winners, including all entries can be seen on PhotoScrambles website and displayed at the upcoming event.
Congratulation to the winners!
Popular Choice Winners
First Place – Gothenburg Travel, by Arianna Grainey
Second Place – On a Jet Plane, by Mandy Peterson
Third Place – Taking Flight, by Glenn White
Professionally Judged winners
Grand Prize: Sunrise on Sand Island, by Robert Hume
Second Place: Flying….Almost, by Thomas Hartmann
Third Place: A Walk Along the Wall, by Anna Bilowus
Fourth Place: Sunny Lily, by William Dwyer
Winning photos can be seen at: http://www.photoscramble.com/contests/the-big-photo-show-is-seriously-fun-photography
About PhotoScramble
PhotoScramble is an online photo contest portal that has developed the tools for companies and organizations of all sizes to create photo contests. Contest hosts have the opportunity to creatively engage their audience to promote, brand, compete, fundraise, or simply to have fun.The sky is the limit. Unlike other platforms, PhotoScramble has cross marketing capabilities and a freemium level of service. PhotoScramble is a sister company of wdweb, based in Traverse City, MI.
About WD Web Company
WD Web Company, is a global SaaS provider and was founded in 1997. For over 15 years, WD Web Company has been developing software and online applications in the professional photography and wedding industries.
For more information please visit, http://www.photoscramble.com
contact: Eric Freed
Phone: 231-932-0851 Ext 11
Email: eric(at)photoscramble(dot)com