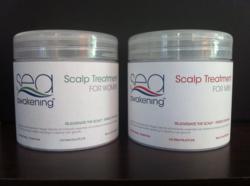 A healthy scalp is the foundation for healthy hair
Canyon, CA (PRWEB) April 25, 2013
California skin care formulator, Sea Awakening Products, unveils its newest and most innovative market offerings aimed specifically at the health of scalp tissue. Debuted are products for in-salon professional application by stylists as well as smaller sizes packaged for retail sale to customers for at-home application beween treatments. Sea Awakening "Scalp Treatment for Women" and "Scalp Treatment for Men" are 16-ounce hinge-lid jars for back bar use. Sea Awakening "Scalp Therapy for Women" (and Men) are 1.75-ounce jars sufficient for several weeks of in-home use.
Both sets of scalp therapy products use gender-specific vegan ingredients that incorporate Dead Sea minerals and silts, essential oils, botanicals and proteins. Both sets of products are protected by patents issued by the U.S. and Israel.
"We crafted these products specifically for tissue health across the entire scalp using ingredients that are natural, vegan and cruelty-free. They are ultra-concentrated to deal effectively with irritations, scalp damage caused by cancer treatments and follicle pathways obstructed by shampoo and conditioner residue," notes James Davis, Sea Awakening's Senior Vice President.
"Having a healthy scalp is the key to having thick, full, healthy hair and stopping hair loss. Most people have scalp problems that can impair proper hair growth," Davis states. "In addition, many people have scalp conditions like acne, dandruff, itching, oily or dry flaking scalp that reduce the ability of the scalp to produce healthy hair. Our goal is to develop innovative products to solve such issues and provide every salon and spa patron the opportunity to enjoy a healthy scalp and head of hair," Davis notes.
"We aimed for something that would be uniquely natural, vegan, cruelty-free and capable of producing identifiable results wihtin several weeks from the start of treatments. In fact, many people see results after the first or second use," Davis adds. Sea Awakening is in discussions with several of the largest salon and spa operators in the U.S., as well as professional beauty disttributors to introduce its proprietary products to the marketplace.
Salon-based clinical trials demonstrated very high levels of stylist, esthetician, beauty therapist and customer satisfaction. Aroma, "feel" and efficacy of the Scalp Treatment products received thumbs-up reactions across the board. "We also received very positive feedback from cancer survivors who used the Sea Awakening Scalp Treatment on their scalp to cope with skin and sensory irritation brought about by chemotherapy," Davis states. Sea Awakening Scalp Treatments (for men and for women) are masques wherein a thin layer is applied to the skin of the scalp and allowed to cure in the salon or spa. Sea Awakening Scap Therapy is a take-home follow-up product used to enhance the therapeutic effectiveness. Ancient ingredients such as myrrh and cutting edge earth archaebiotic materials such as Halobacterium salinarum also play prominant roles in the product formulations and efficacy. A long-time supporter of animal causes, the Company insisted that its products be cruelty-free.
"The primary effort has been to create a scalp masque that stylists, estheticians and beauty therapists find enjoyable to use and that customers find both stimulating and soothing when applied and easy to use at home," Davis states. "Plus, the products help to boost circulation and to help diminish hair loss."
Sea Awakening products is a boutique formulator of natural mud and mineral products and specializes in salon and spa natural therapies focused exclusively on scalp health and healing. Sea Awakening is the sister company of Awakening Mineral Skin Care. To learn more, contact James Davis at Sea Awakening Products, 925-388-0963.