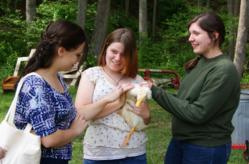 "Community service has created new opportunities for Asheville Academy students," Bryan Tomes, Executive Director
Asheville, NC (PRWEB) April 25, 2013
Asheville Academy for Girls, a therapeutic boarding school for troubled teens ages 10 – 14, supports National Service Month with a curriculum that involves students in the local community. The students and staff at Asheville Academy for Girls take community service seriously. As part of their weekly educational curriculum, the girls participate in activities that benefit their community and the community at-large.
Executive Director Bryan Tomes notes, "Our young ladies have a strong sense of nurturing. Being able to express this through community service gives them a healthy and productive outlet for their desire to have a positive impact on the world. In turn, we find their attitude and mood improve when they see the results of their participation."
This semester, the therapeutic boarding school students have been participating in several different community service projects. In conjunction with Tipsy Star Quilts, located in downtown Asheville, NC, the girls are making quilts to donate to Newborns in Need, a non-profit organization that provides supplies to families with newborn babies and too few resources to care for them. A representative from Newborns in Need will visit the school over the summer to accept the donated quilts and offer thanks to the girls for their service.
"Community service has created new opportunities for Asheville Academy students," Mr. Tomes continued, "Through participation, our community has become more aware of our young ladies. We have had the local TV station do a segment. We have a local drumming organization working with our girls to introduce them to global percussion. Moog, a local musical instrument manufacturer, toured our young ladies through their facility."
Students at Asheville Academy's therapeutic boarding school for girls are also working with the folks at the Craggy Mountain Line Railroad to restore 3.5 miles of historic railroad line. The girls have been helping paint and restore the interiors and exteriors of several train cars and trolleys, as well as the train depot. When completed, Asheville Academy students will assist with parties and special events, along with hosting and sharing the history of the railroad with others.
For information about the therapeutic boarding school's community service curriculum, please contact Bryan Tomes, Executive Director at (800) 264–8709.
###
Asheville Academy is a leading therapeutic boarding school for troubled girls 10 - 14 years old. Founded by professionals with over 75 years of experience in designing and operating therapeutic placements for adolescent girls, Asheville Academy is working to become the international leader in emotional, behavioral, and academic interventions for young ladies. Asheville Academy is a member of the North Carolina Division of Non-Public Health, Small Boarding School Association, and CARF International. For additional information please visit http://www.AshevilleAcademy.com or call (800) 264-8709.