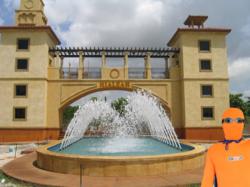 We offer a better way to receive practical information: direct from a local available pro
Hialeah, Florida (PRWEB) April 29, 2013
Seva Call (Save-A-Call) has launched in Hialeah, Florida. Across Florida, the free service is already finding and connecting consumers to local service professionals within minutes. Consumers are most likely to click on ads by businesses within 1-2 miles, clicking on 10 such ads before calling one local company. The cost to local businesses, over a dollar per click, really adds up. Plus, online research is an inadequate first step to finding an available service provider since 25% of local businesses aren't even listed online.
Now, Hialeah residents will be able to hear from an available service professional in 90 seconds, (rather than 30 minutes), by visiting http://www.sevacall.com, entering their location, availability, and description of the problem at hand. In minutes, Seva Call's algorithm matches the consumer with three preferred service professionals and connects them by phone to top-rated area professionals who are ready to help.
Locals can now enjoy a better way to get real-time quality connections to businesses in over 50 service categories. Seva Call filters through the city's more than 1,600 businesses, including roofers, lawyers, and landscapers, and chooses the best based on proximity, availability, the job needed and even quality control measures like online consumer ratings and reviews, social reputation and interactions, call analytics, and other forms of consumer and business feedback.
By using Seva Call, consumers save time and energy while finding the skilled professionals who match their schedules, needs and can answer their questions right away. Of course, not only consumers, but businesses also will benefit from using Seva Call. When Seva Call receives a request from a consumer, the request will be relayed to the appropriate businesses by email, phone call, or text message. Once the business receives that request, they will have the opportunity to accept/reject the client based on details provided, saving valuable company time.
"We happen to be launching a few days ahead of the city sponsored Reiki circle. A reiki circle is a big intricate pattern that 'explores the different ways that humans receive inspirational and energetic information', we offer a better way to receive practical information: direct from a local available pro." - Seva Call Cofounder Aman Bakshi
In the near future, the Seva Call team will launch its iPhone and Android app so that customers can enjoy the same instant responsiveness to their service needs even when they are far from home. This will certainly help even more busy Hialeah residents.
Seva Call raised $1.3 million in Series-A funding last fall and has launched in 31 cities across the United States including Miami, Atlanta, Birmingham, Baltimore, Philadelphia, and Boston. Connect on Facebook, Twitter, and YouTube.